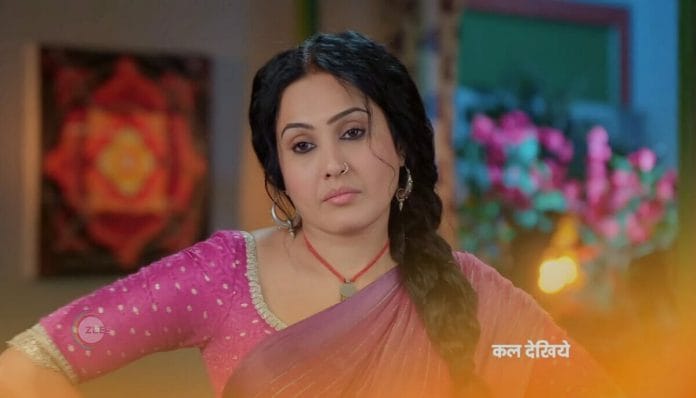 Sanjog 25th November 2022 Written Update on TellyExpress.com
Episode starts with Rajeev asking for help while Gauri ask Rakshita to save his life, in order to get into his good books. She becomes afraid of the fire and denies to go inside. Meanwhile, Rajeev suffocates being trapped inside the fire. At that time Amrita comes there and starts throwing water to stop the fire. She saves Rajeev's life while the doctor checks him and assures that he is out of danger. He ask Rajeev to take some rest, while Rajeshwari comes towards Amrita and shows her gratitude towards her. She cries for mistreating Amrita and says that she has done so much for the family.
Here, Rajeshwari says that Amrita passed the challenge given to her and then apologises for her mistakes. Whereas, the latter hugs Rajeshwari and says that she has always treated her like her own mother. Meanwhile, Ranjini also shows her gratitude towards Amrita for saving her brother. Rakshita gets jealous seeing everyone praising Amrita and reminds that they all should let Rajeev rest as adviced by the doctor.
Everyone goes out of Rajeev's room while Rakshita stays there with him. He tells her that he can't continue his relationship with her anymore. He feel ashamed to betray Amrita and joins hands in front of Rakshita not to tell anything about their affair to his wife, as she won't be able to bear it. She gets shocked by his decision and says that he can't leave her. But he stays firm on his decision and denies to continue their relationship.
Elsewhere, Rakshita goes to Gauri and asks for her help. She says that she can't afford to loose Rajeev and insists Gauri to help her. Whereas, the latter makes a dangerous plan and plans a bomb inside Amrita's car. She decides to kill the latter in order to fulfill her revenge. Meanwhile, Amrita gets elated seeing her family seeing together.
Rajeev goes towards Amrita while she shares her happiness with him. She proclaims that she doesn't need anything else in her life, while he expresses his love towards her. Meanwhile, Amrita gets inside the car and Kotharis gets shocked hearing the bomb sound. They becomes shattered realising about Amrita's death.
Ahead, after few days Rajeshwari and other family members misses Amrita. They recalls their moments with her. Meanwhile, Tara and Chanda also remembers their mother and gets flashes of how they misbehaved with her. Tara insists her father to bring Amrita back. She assures that she will never fight with Chanda. Rajeev consoles his daughters.
Rajeev looks after his family and sees Amrita's photo on his phone. He gets teary eyes recalling his moments with her. Meanwhile, at that time Alok comes there along with his team. Everyone gets shocked while he shows the box in which the bomb was kept. He confronts Rakshita and questions that why she killed Amrita. The latter denies all the allegations, while Rajeev rebukes her and compares her with Amrita.
Further, Gauri also puts allegations on Rakshita in order to save herself while Chanda comes there and tells that she has seen Gauri with that box. She proclaims that Gauri killed Amrita while Alok proves it with the fingerprint match. He arrests Gauri while Gopal gets furious at her and says that she lost everything because of greed. Rajeev decides to look after Tara and Chanda, while Gauri determines to take her revenge from them.
The episode ends.
Also See: