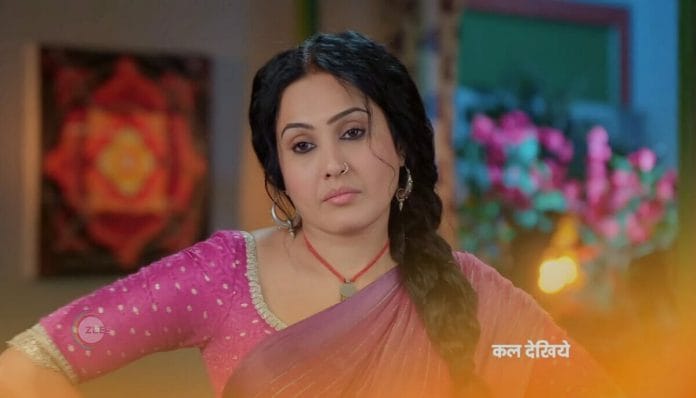 Sanjog Spoilers, Upcoming Story, Latest Gossip , Future Story, Latest News and Upcoming Twist on tellyexpress.com

Zee Tv's popular serial "Sanjog" is gearing up for some intense drama and interesting twists in the upcoming story. Previously, Kotharis planned a surprise for Tara on her birthday while she got elated seeing her gifts. She also mistreated Chanda while Amrita got shocked seeing Tara's behavior and became concerned for her.
Meanwhile, she confronted Gauri and warned her not to manipulate Tara. Whereas, Amrita got rebuked by Rajeshwari for trying to celebrate Chanda's birthday.
In the current track, Amrita apologises to Gauri as Rajeshwari asked her to for interfering in their personal life. Whereas, Amrita determines to protect her kids from Gauri's evil plan. The latter states that she will do anything to fulfill her dreams and warns Amrita not to come in between.
Here, Gopal brings a cake for Chanda and ask Amrita to join them. Amrita ask Chanda to make a wish before blowing the candles while the latter prays for her parents. Gopal and Amrita gets emotional while Gauri gets irked and goes away from there.
Gauri determines to make a plan to create rift in between Tara and Amrita. She states that she can't be able to fulfill her dreams without creating fight in between Tara and Amrita.
Ahead, Gauri sees Rajeev romancing with Rakshita and smirks thinking about using the information in her plan. She then manipulates Tara against Amrita and Chanda. She proclaims that her mother pays more attention towards Chanda.
Tara gets furious at Chanda for revealing her result to Amrita while Gauri ask her to change her score on her own. Amrita scolds Tara for doing it while the latter gets furious and says that she trusts Chanda more then her.
Later, Rajeshwari and Ranjini shows their support towards Tara and scolds Chanda. Whereas, Amrita ask them not to interfere in her parenting. She sends Tara back to her room while Gauri instigates the latter against her mother.
Now in the upcoming episode, Tara will lock Chanda inside a room while the latter shouts for help. At that time Amrita and Rajeev will come there and the latter opens the door to help Chanda. She will come out and hugs Amrita while the latter will ask Tara to tell the truth that who lock Chanda inside the room. Tara will question back to Amrita and ask that whom she trust more her or Chanda? Whereas, Gauri will smirk seeing her plan work.
Will Gauri gets successful in her ploy?
Will Amrita find about Gauri's ploy?
It would be interesting to see what happens next on the show.
Stay tuned with us for more news, Spoilers and written updates of Sanjog.