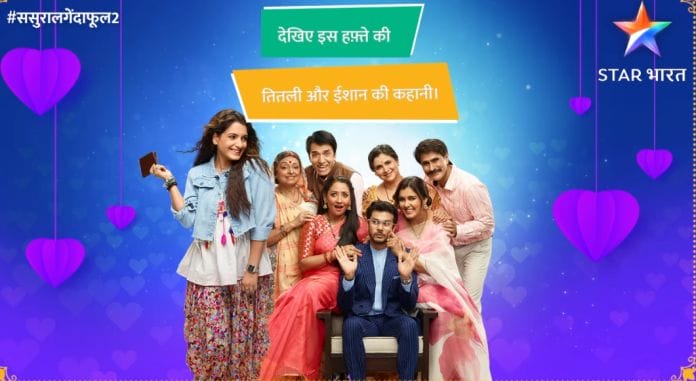 Sasural Genda Phool 2 13th April 2022 Written Update on TellyExpress.com
The episode starts with Titlee, she enters into Shailaja's room. She thinks that she made her feel what's mom love? She taught her many things in her life. She won't forget her in her life. She takes her blessings and leaves from her room thinking she needs her blessings life long. Titlee leaves from Kashyaps family with tears.
Meethi and Ishika comes to wake up Ishaan. They complaints to him that he is still sleeping without arranging anything to lift Titlee's mood. He apologises to them and enquire them about Titlee? They informs to him that she went to temple with Shailaja so they have enough time to arrange everything. Let's surprise her with our arrangements. Ishaan calls to Avni and apologized to her. She says that he don't need to apologise to her like this often. He tells her that he is still feeling guilty inside because he betrayed her.
He shares his grief to Avni. Avni asks him why is he so happy today? He hesitated to answer her. She finds that he loves Titlee. He asks her how come she know it? She shares to him that she understood it from their first meeting they are special each other. He thank her and disconnects the call.
Later Titlee reminds her beautiful moments with Ishaan while walking on road. Jagdeesh calls to Titlee and informs to her he is safe and he got new job here. Let's start their life fresh. Titlee shares to him that she is happy to learn he is fine but she gonna surrender in police station. He denies it reasoning she was in this state because of him. He pleads with her to don't do anything stupid. He demands her to go near Ishaan he tried hard to protect her. If she take this foolish step then his hard work will be waste. He assures to meet her asap.
Ishika takes Ishaan to his room. He gets surprised to see the decorations inside the room. Titlee comes there and asks him what's going on here? Ishika signals him to propose her. Ishaan kneels down in front of Titlee and propose her. He asks her will she accept his love and stay with him lifelong? Titlee nods to him and accept his love by taking flowers from him. He hugs her in happiness.
Both dances together romantically there. Ishika brings Ishaan back to earth. She asks him to stop day dreaming. Just then Shailaja comes there and appreciates Ishika for arranging everything beautiful. She adds that she expected this day to come asap and he will propose her. Ishaan gets shocked to learn Titlee didn't went with her to temple. They starts searching for her.
Titlee stands in front of Police station and apologize to her father for taking this decision. She thinks that she has no option left then this. One goon noticed Titlee there and alerts his group to caught her. Meanwhile Kashyaps searching for her everywhere in the house. He finds the letter in his room which wrote by Titlee for him. Ishaan thinks that he won't let her leave from him.
Rani asks to Ishaan what happened? He informs to them that they are the reason for her state. Eilesh asks him to go out and search for her. Later Rano brings tea to Alok she is happy for the news. Alok complaints that she is always wrong judging that kid. He asks her to read the letter which she wrote for her.
Titlee wrote in that letter that she never tasted mom's love in her life. She witnessed how a mom love their kids and do everything for them through Rano. She was surprised to see Rano's love for Ishaan. When Titlee came to his life he was leaving far from Rano. She don't wanna come in between mom and son and separate them. She was leaving this house forever. Ishaan will forget her asap and come back to her at least their relationship will continue smoothly. Rano feels guilty for her deeds. She thinks that she done big mistake towards Titlee.
Episode end.
Click to read