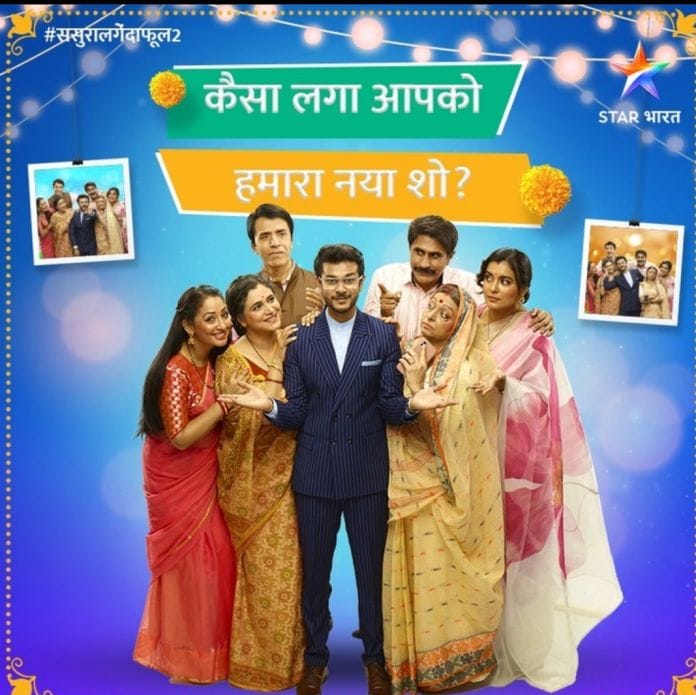 Sasural Genda Phool 2 3rd February 2022 Written Update on TellyExpress.com
The episode starts with Jagdeesh returns to home Titlee asks him to leave from there. He apologies to her for beating her in an intoxicated state. Ishaan gets shock to hear it and questions him Is he beaten her? He thought she was caught while stealing? Titlee asks Ishaan to stop interfering in her problems and asks Jagdeesh to leave. Jagdeesh mentions him as fake son in law and takes the food from him to eat. Titlee asks him don't he have shame then leave the house?
Ishika and Meethi are selecting dress for Ishika. She asks to Ishika where is she going? She informs to her that she gonna meet the person whom she chatting in online they wished to wear matching dress. Meethi says even she brought Karan's favourite color dress before that's why it's full of green color why don't she throw this old dress out? Ishika complaints that age ruined her mood by mentioning his name. Ishaan asks to Titlee Is his her father? He shouldn't treat her like this she should complain against him in police station. Titlee asks to him what's his problem in it? He is her father and he beaten her why is it bothering him?
Ishaan says it's wrong to beat her like this. Titlee tells him its not happening for first time from childhood days its happening to her. Ishaan apologies to her for hurting her like this. Titlee tells him its not his mistake whatever he said was true whenever she is going to steal something risk is there to being catch. She hopes he understands it now why she can't be a befriend with him. He has money, education and a good family to him. Where ever he goes he can able to get a new friend because of his good nature. But her life is different no one dared to be friend with her because she don't have time to go behind it. If she don't steal something how will she eat food.
Titlee shows one drawing to him and says her dad draw it on wall and says Earth revolving around. It means sun is boss to earth. Whomever living in upper side of earth can able to see the sun but not people like them because they are living in darkness. They will also get some changes to see the light but they should not go behind it. If they goes they will die so they might live in this darkness lifelong. Ishaan tells her its wrong whatever he taught to her is wrong. Sun is common to all everyone can see it. She don't need to stay in this darkness. She is Titlee means butterfly. Butterfly can able to go near sun unlike others. She can also purse her dreams. She asks to him doesn't he has any work why us he visiting her house often? Titlee asks to him Is his advice over then leave from here. Ishaan thinks now he understood why is this girl ended up like this it's all because of her drunken father.
Ishika reaches to restaurant and thinks she got late. She notices one person sitting in restaurant wearing yellow shirt. He greets him and ask to him Is he Mayank? He tells her she misunderstood him he is not him he is waiting for his friend. Someone touches her and says she may be searching for him. Ishika gets shock to find Karan there. Meanwhile Titlee reminds Ishaan's motivate words. She reminds how did she refused to become a thief and shared to her father she wanna be a pilot. He asked her to stop blabbering and said she wanna stop studying she wanted to be a thief. This book won't give food to her. She said to him that she can become something else. Jagdeesh slapped her.
Titlee touches her cheek and thinks Ishaan may worrying about her. We can't be a good friends too. She thinks that she is not gonna get a good days in her life. Ishika gets disappointed to see Karan there she lashes out at him for created fake profile and chatted with her in the name of Mayank. Both are arguing with each other and she gets surprised to see him remind her tastes.
Meanwhile Titlee notices her house is messed up her money is missing she see the person running away taking her money. She throws the stick on his hand and stops him. She collects her money and notices the broken hand chain there. She understands Deva bhai send the person here to steal her money she wishes to know this money on his face and finish all the deal with him. Avni is talking with Dadi ji Rano thinks that she might stop her somehow till Ishaan return to home.
Just then Ishaan comes there so they make him sit beside her and gives privacy to them to talk. Both are hesitating to talk with each other. They are discussing about Titlee matter. Family members are happy to see them talking together. Ishaan clear to Avni that he will only marry Titlee not anyone else but family members are against him. He shares to her about Titlee.
Episode ends.
Click to read