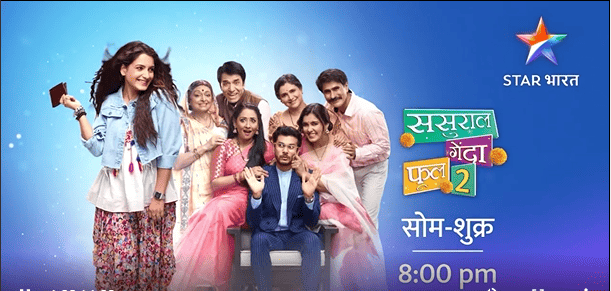 Sasural Genda Phool 2 7th February 2022 Written Update on TellyExpress.com
The episode starts with Disha asks to Idar Is he heard carefully? Indar nods to her and says he didn't ask anything to him but he himself said it to him. Rajini asks to him what's the need to bring someone to pretend like his girl friend? Indar says he wanna stop them searching a girl for him to marry. Rajini says to them that she don't believe that Jagdeesh at all because he is a number one fraud. How could we believe that our Ishaan lied to them? Disha asks to them what will he get from lying to them? Ishika too accept it and says its a serious matter we should inform this to our parents.
Rano asks to Shailaja Is she know the reason why did Ishika got separated from Karand got divorced from him? Shailaja says that everyone in this house know it because they used to fight each other and don't have peace at all. One day she came to home and didn't want back. Rano says to her what's the need to go back to that house after he done this much to her? Shailaja don't understand anything and demands her to say what's going on? Rano says to her that Ishika lost her baby? Shailaja asks to her Is she pregnant?
Rano says to her that she was pregnant and got miscarriage in home but he was not there. He used to left her alone to do party it happened many times but when she got miscarriage she left him forever. If she has any idea about her pain then she wouldn't have let Karan come here.
Rano adds that her two kids are suffering. Indar says to them let's ask to Ishaan about it? Disha says that he won't agree it if he lying to them. Rajini says that she only believing Ishaan and gonna confront him. Inder says it's correct to ask him why did he bring Titlee to home to pretend like a fake girl friend?
Meethi hears it and says its a breaking news then rushes to inform this to all. Kashyaps notices her and asks her to come slower. She asks them to hold the chair tighter she gonna share one truth to them. Alok asks to her Is earth quake coming? She says to them that Titlee is not Ishaan's girl friend but lying to them she heard it when dad taking about it. Shailaja says that her son only know to do fun may she heard something wrong.
Alok says that she is right. Rano asks to Indar what's she saying? Indar reveals the truth to them what did Jagdeesh said to him? He adds that he paid money to Titlee to pretend like his girl friend and made them hate her. Shailaja gets shock and says how could he lie to them what's the need of it? Indar says to them that they are keep forcing him to marry that's why.
Rano says that She knew well Ishaan won't fall for a girl like Titlee. She complaints that Shailaja didn't heard her words at all now see what happened? She adds that she is his mom no one can understand him then her? She will definitely ask to Ishaan what going on here? He might answer to her questions today. Shailaja thinks how come she understands everything wrong definitely she saw something between them. Titlee returns the money to Deva bhai and says she paid all money to him one month before he can count it well. She got that work that's why she stopped working under him right?
Deva says to her that only she know his plan well so it's better to work under him she denies it. She warn him to stop sending his goons to her house and place the hands chain and leaves. He thinks that she don't understand him at all.
Ishaan asks to his family members what's going on? Rano about ask to him but Alok stops her and pretends like they are discussing about Family matters why didn't Titlee visit here? Rano asks to him why is he lying to them? Rajini says that doesn't he break up with Titlee then how will she visit here? Ishaan says that he broke up with her that's why she is angry on him and he is also disappointed. They are keeping questioning him he pretend like emotional and escaped from them. Family members has no idea how to bring out the truth? Ambarnath comes there and says he has an idea. He was playing drama with them so let's play a drama with him. He narrates to them let's pretends like we accept his marriage with Titlee and they have no problems if the move out after marriage too?
Rano disagree with it and says what if this true then he will end up with that Titlee she can't able to accept it. She leaves from there Alok fears she will reveal the plan to Ishaan. Gayathri says to them she won't go against Dada ji she is guarantee to it.
Avni thinking about Titlee words and thinks still she has that chance to get back with him. What if he start like her? Meanwhile Ambarnath tries to convince Rano to accept this plan reasoning if this is drama then he will accept the truth infront of all and Titlee chapter is over here. Rano agrees to it.
Episode ends.
Click to read