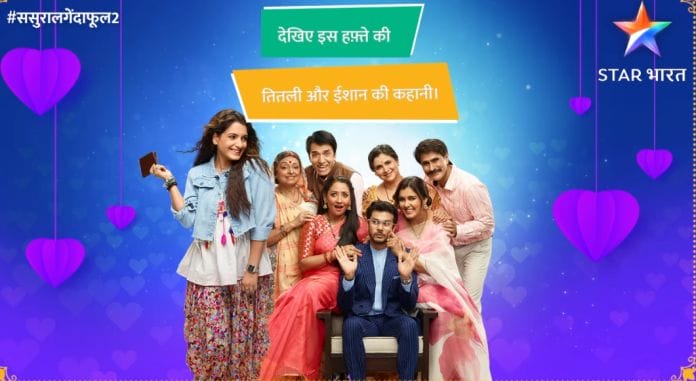 Sasural Genda Phool 2 8th April 2022 Written Update on TellyExpress.com
The episode starts with Titlee, she cries thinking about the insult she faced in the house. Ishika consoles her. Disha shares to Kashyaps that she took loan for Eilesh's cofee shop. She shares to them that she is unaware of their background. They threatend her to kidnap Golu if she don't pay the money back. She pleads with them to give another chance to her. Shailaja nods to her and says she is their family. Rano asks her why didn't she share it with them first? Ishaan lashes out at them for showing partiality to Titlee. He says that they forgave Disha's mistake because she is their family but not Titlee.
Why did they treated Titlee like that without her mistakes? He complaints to Rano that she is used to insult her from the day one she came here. She is accusing Titlee unnecessary without her mistakes too. Doesn't she a person whom talks about correct then why didn't she behaved like at least a human being in her matters? Doesn't he said to them he brought her here forcefully. She don't have interest to come here. It's his duty to protect her how dare them to insult her? Titlee done a mistake by loving this family and think it as her own.
Ishaan says that he was proud of his family members because Kashyaps won't do any mistakes but he is wrong. He feels shame on them because it's the family. Whom tortured an innocent girl. He leaves from there. Shailaja asks to Rano Is she heard him? She can't able to separate Titlee from Ishaan instead she is going far from her son because of her false allegations on that girl. She is thinking she can separate them by doing such things but she is wrong. She thank her for doing such things because of her Titlee and Ishaan are getting close and strong. She leaves from there.
Ishaan returns to his room angrily. Meanwhile Rani asks to Disha why did she done like this? They were blaming an innocent girl there and accused her as thief then why did she kept her mouth shut? Indar asks her to leave this matter she is already in guilty. Rani asks him what he gonna answer to his deeds? He tells her let's deal with this later. He asks her what's the need to get this money?
Dasha shares to them that she brought money for Eilesh. She has no idea they were dangerous people, because they are threatening to kidnap her son if she pay her instalments amount late. Disha apologize to them but Rani asks her to apologize to Titlee. Indar asks her what's the need of it? She tells her she is also human being she demands him to apologize to her but he denies it. Eilesh apologize to Disha for hurting her this much. She consoles him back. She feels bad for Titlee because she is well aware she stole the bangles but she didn't open her mouth against her. She wanna apologize to her for her mistakes.
Ishaan sits beside Titlee and asks her what's going on here? What's the need to shut her mouth when she didn't done any mistakes? They were about to handover her to police. Doesn't she a girl whom talk for her and take stand for herself. Titlee tells him that she is aware of the truth whom steal the bangles that's why.
Ishaan questions her Is she know Disha stole the bangles then why did she kept quiet? She narrates to him how did she saw her coming out of Shailaja's room panic. She understood everything when they confronted her. He asks her why didn't she reveal the truth to them? Titlee shares to him that she was a thief so she is used to face such situations. If she changed also her name is not gonna change they will mention her as thief. But Disha stole it for a reason how will she face such situations? It's affect her more then her? This family loves Disha a lot even some are loving her too so she can do this at least to this family. Ishaan wipes out her tears.
Episode end.
Click to read