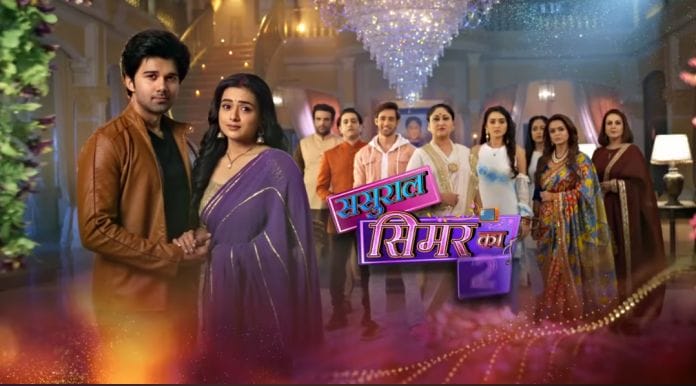 Sasural Simar Ka 2 10th May 2022 Written Update on TellyExpress.com
At the beginning of the episode, Simar turns off the lights of the house. Reema comes there as a ghost. Dhami gets scared seeing this. She tells Aarav that there is a ghost in this room. Aarav tells her not to be afraid. He goes out of the room and sees Reema. Aarav understands that Reema is scaring Dhami. He further looks at Simar. He asks her if she is fine. She says yes. Aarav asks her what is she doing here alone.
Simar says that she is not alone here as he is with her. Aarav tries to ignore Simar. Simar tells him that he should tell her the truth but Aarav refuses to talk to her. Dhami further catches Reema. She understands that Reema is trying to scare her. She says Reema that she will not leave her. Reema says that she is not afraid of her.
Saying this she leaves from there. Here Simar is about to fall but Aarav catches her. He asks her to take care of herself. Simar hugs Aarav. She tries to find out the truth to Aarav but he refuses to tell her anything. Simar says that she will soon discover Dhami's truth. She is about to go to Dhami but stops her and says that she will not go to Dhami.
Simar asks him why is he doing all this. He says that he is doing all this to save her and his family. He tells her that Dhami is threatening him. He is about to tell her the whole truth but Dhami comes there. Aarav hides Simar. Dhami tells Aarav that she will come there in a while. She further tries to make Simar fall. Simar survives. Dhami says that she has survived today but will not survive every time.
Simar tells her that she will continue to teach her a lesson. Dhami says that tomorrow a big incident is going to happen in her house. Simar says that no one can do anything to her family while she is there. The next morning Simar is preparing for the puja. Sandhya also comes there. Simar seeks Sandhya's blessings. Sandhya asks Simar if she talked to Aarav yesterday. Simar at the same time sees Dhami who is scattering pearls in the stairs.
Geetanjali comes there. Simar is about to stop Geetanjali but Dhami already tells Geetanjali that pearls have fallen in the stairs. She tells Geetanjali that she is fulfilling all the duties of being a good daughter-in-law. Geetanjali gets annoy her. She scolds her and leaves from there. Aarav comes there and helps Simar. Dhami goes to Sandhya and wants to help her but Sandhya calls Simar and asks her to start the puja.
Click to read