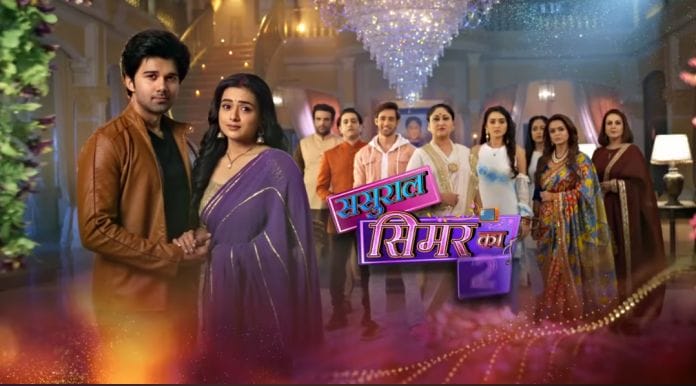 Sasural Simar Ka 2 11th May 2022 Written Update on TellyExpress.com
At the beginning of the Simar asks Sandhya if today she used another perfume. She says no. Simar wonders where she has smelled the same perfume. She recalls that Dhami also uses the same fragrance. She goes to Sandhya and notices that Sandhya's sari has caught fire. Simar stands shocked. She goes to her and tries to extinguish the fire. Sandhya asks her to stay away from her. But Simar doesn't pay heed to her words.
Everyone comes there and asks Simar what happened. Simar tells them that Sandhya's sari has caught the fire. Everyone asks if she is fine. She says yes. She tells them that Simar's hand has been injured. Aarav comes to Simar and put ointment on her hand. Simar later tells everyone Dhami did this. Reema even checks Dhami but is unable to find anything.
Simar and Reema get shocked. Simar tells them that yesterday Dhami threatened her and today this happened. She says that she won't leave her. Geetanjali asks her to calm down. She asks her to sit on the sofa. Simar says that they need to protect themselves from Dhami. Geetanjali agrees with her point. She says that they will soon teach her a lesson.
After this Dhami enters her room. She says to Aarav that she didn't harm Sandhya. Aarav comes to her with a knife. He cuts his hand because she harmed Simar. He says that he too deserves the punishment. Dhami tries to put ointment on his hand. But Aarav stays away from her. Dhami says she too will hurt herself. Aarav doesn't stop her.
Dhami gets nervous and doesn't injure herself. Maharaj Ji notices Aarav hand. He tells everyone about Aarav. Simar stands shocked and goes to Aarav. Dhami calls the doctor and asks him to treat Aarav. Dr does the same. Dhami asks Simar to leave her room. Simar doesn't want to leave. Geetanjali asks her to come with her.
Sandhya says that she will make haldi milk for her. Simar asks her to bring two glasses of milk. Sandhya says fine. Dhami asks Aarav to take his medicine. But he asks her to stay away from him otherwise he will harm himself even more. Dhami leaves from there. Later Simar tells Reema that Dhami is threatening Aarav. She says that they need to do something.
Click to read