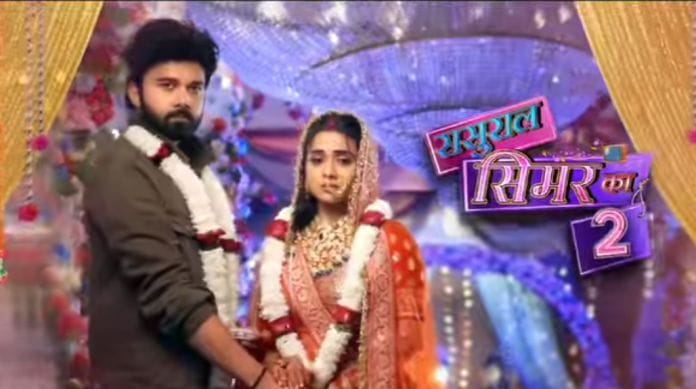 Sasural Simar Ka 2 13th May 2022 Written Update on TellyExpress.com
At the beginning of the episode, Simar asks Vivaan to tell her the truth. Vivaan says that Dhami used to study with them in college. They come to know that she is a bit stubborn and would never give up on Aarav. He says that one day at night she came to their room and said that she wants to be with them because her roommates are troubling her. Aarav said fine. He tells them that one day Aarav went out with his friends and Dhami got angry with him.
Aarav was shocked to see this form of her and asked her to leave from there. So Dhami tried to kill herself. Then they came to know that Dhami has a disease of stubbornness. He tells them that the therapist asked Aarav to take care of Dhami as he felt that Aarav also loves her. Reema says that it means Dhami lied to his therapist too. Aarav comes there ahead. He scolds Vivaan and takes her away from there.
Simar tells Reema that they have to do something as soon as possible. After this Simar goes to her room and tries to apply medicine on her hand. Aarav sees her and says that he cannot help her because of Dhami. He goes to Geetanjali and asks her to help Simar. Dhami sees all this and gets angry. Geetanjali helps Simar. Simar learns that Aarav has asked Geetanjali to help her.
Simar thanks Geetanjali. Geetanjali says she doesn't need to thank her. Simar further sees that Dhami is going somewhere. Simar follows her. She is going out of the house after Dhami. Then someone drags Simar away from there. Dhami goes to Simar's room and texts Aarav from Simar's phone to meet her in the garden. Here Simar gets shocked seeing Samar.
She tells him what he is doing here. Simar warns him not to come here after today. Samar tells Simar that Aarav is not good for him. Simar starts leaving from there. Samar grabs her and hugs her. Dhami takes their photo. Aarav also reaches there and gets shocked seeing Samar. He goes to her in anger. She takes Samar away from Simar. Dhami tells Aarav that Simar has a bad character.
Aarav says that Simar is a pure soul. Further, he slaps Samar in anger. Aarav tells Samar that he should stay within his limits. He tells Samar that he knows that he wants to create misunderstood between them but he believes in Simar that she cannot do anything wrong. Samar says that Simar had called him here. Aarav refuses to believe him. Simar tells Aarav how Samar kidnapped her.
Click to read