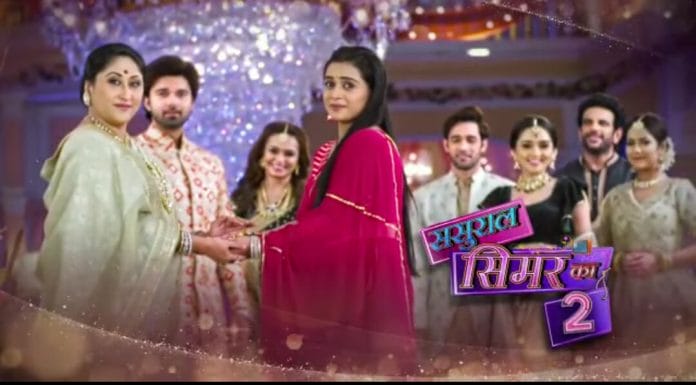 Sasural Simar Ka 2 14th July 2022 Written Update on TellyExpress.com
Episode starts with the dramatic scene of Badima. She gives a tight slap on Riyansh's face. Riyansh is shocked. Everyone becomes confused and confounded. Pallavi asks what's happening here. Badima indicates with her hand not to interfere. Reema requests Rudra not to cover this family issue as it's a matter of the respect of the family. Raudra assures her he wouldn't lick this issue.
Chitra asks Badima why did she also slap on this face on this auspicious day in front of everyone. Badima asks Chitra to interrogate her own son. Chitra, Giriraj and Mr Kapoor insist Riyansh to express what's happened. Riyansh remain silent. Badima asks Riyansh fiercely what is the relationships between Kavya and him. Riyansh says he didn't anything wrong. Simar gets surprised to see his level of falsity.
Ishita behaves wired with Simar. Ishita accuses Simar as she was snooping behind Riyansh. She brainwashed the brains of Ishita and Aarav first, now Simar is creating scene to break the marriage. She says Simar doesn't want that Ishita would become daughter in law in this house. Simar gets disappointed and breaks down. Badima rebukes Ishita for behaving like this with Simar. Badima again insists him to reveal the truth.
Riyansh knees down to Badima and says there is not illegal relationship. Kavya insists Riyansh to build the relationship. She was nagging behind him and he made her to understand and Kavya was obstinate. Badima was confused. Simar asks why did then Riyansh go to meet Kavya today in a coffee shop. Riyansh is in quandary. Kapoor family criticizes Oswal family for this tantrums. Ishita again accuses Simar as the pioneer of all these turmoil.
Badima says she can see the confidence of the of Simar in her gesture. Kapoor family asks who is Kavya. Ishita says it is the conspiracy of Simar. Mother Mr Kapoor says her to stop. Ishita says she believes Riyansh. Riyansh says to Badima to believe him as there is not relationship between Riyansh and Kavya. Chitra says she believes on Riyansh. Giriraj says to Badima that may be Riyansh is childish but he can't do this think. Giriraj says to Simar that may be she has mistaken. Reema takes the side of Reema. She says there is only one weakness of Simar, that she always says the truth. Chitra pokes Reema. Vivaan protests that this two sisters can't able to tell the false. The mother of Kapoor wants to say something to Badima. She says they should summon the truth. Badima agrees. Badima says to Simar to call Kavya there. Chitra doesn't want this controversy.
Reema comes to Rudra Rathore to keep this family matter secret. Rudra agrees and looks impressed with Reema's behaviour. Reema apologies Rudra for all these controversial matter. Simar calls Kavya and asks her to come to the Oswal immediately. Ishita and her parents gets disgusted with the whole situation. But Ishita's parents keep supporting her.
Then comes Kavya. Simar tooks her to Badimaa. Badimaa tries to calm Kavya down. Araav asks weather she knows Riyash or not. Kavya says yea. Badima calmly asks her to reveal the exact relation between Kavya and Riyash. Kavya recalls their last meeting and gets worried. Simar asks the same as Badimaa. But suddenly Kavya says that she knows Riyash only as brother-in-law of Simar, nothing special than that. Simar, Badimaa and others look confused.
Simar again asks Kavya to reconsider, what she is saying. But Kavya completely denies. Badima again asks Kavya to say the truth without getting worried because she will support her. But sticks to her statement and denies to reveal the truth. Ishita, Chitra comes and supports Riyash. They tries to convince Badima that Riyash is absolutely innocent and It is all happenning because of Simar.
Episode ends with , Simar tries to convince Kavya again and again to reveal truth but everytime she denies. Everyother person in the room looks very confused and awestruck with the matter.
Click to read