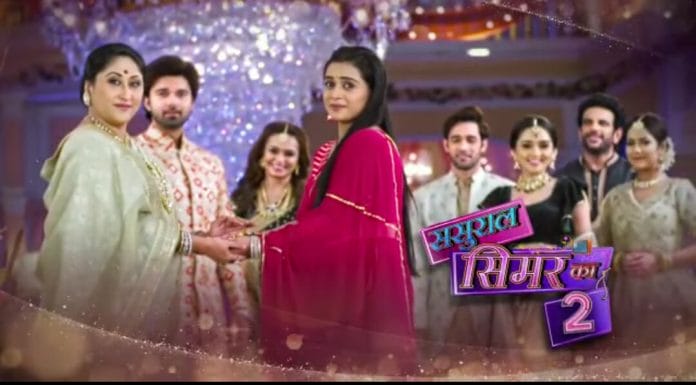 Sasural Simar Ka 2 16th July 2022 Written Update on TellyExpress.com
Episode starts with the conversation of Simar. Simar asks Reema, Vivaan, Gagan, Aditi, Roma why they are unhappy. Simar tries to manage the situation and makes them comfortable. Simar gifts a dress to Reema when she says that she doesn't have anything to wear for the collaborative theme. Vivaan is asked to iron the dress. Gagan again expresses his over thinking of Aaditi's pregnancy. Everyone pulls his leg.
Ishita and Maddy plan about today's function. Ishita says she wants this marriage function as a funshow and a great programme of entertainment in social media. Mr Kapoor comes and says to Ishita to rethink about Riyansh. Kapoor expresses his anxiety regarding her future. Pallavi comes and assures that Simar will participate in today's programme. Ishita becomes irritated and says Simar is shameless.
When Vivaan irons the dress, he burns mistakenly one of the part of that dress. But Reema didn't yell. Vivaan says he will bring a new lahenga for her. But in the next morning, Reema still waits for Vivaan. But he doesn't come with the new dress.
Meanwhile someone delivers her a wonderful designing dress. Reema assumes that Rudra had sent her. Vivaan comes and asks where she has got this dress. Reema lies him as she says Kapoor family had sent her. One greatest of designer, Namit Malhotra calls Reema and says that dress is his designing. Namit appreciates her beauty and says someone gave her phone number to him. Reema is asked to share some photos with that dress as something grand is waiting for her. Reema pleases.
Simar comes with her beautiful blues dress and Aarav becomes confounded and surprised to see him. Aarav gives compliments of her beauty. Simar feels uncomfortable with the function and previous incidents. Everyone consoles and supports her. Sandhya blesses them all.
Suddenly Reema comes with her new designing dress, and Vivaan gets mesmerized and surprised to see her awesome beauty. Vivan says he owns most beautiful wife in India. Rudra comes and agrees with him. Rudra says she looks best in this dress and says he gifted this dress. Vivan asks why did he give Reema this expensive dress to him as Reema is stranger to him. Rudra says Reema is not an unknown to him, and she wants Reema as the front page face of his magazine.
Marriage ceremony starts with a grand and gorgeous opening. Simar is welcomed in a insulting manner by Ishita. Ishita and Maddy didn't offer Simar any couple placard. Aarav says they are always together. Aarav says how Simar has come there only to satisfy others. Simar always thinks about others and doesn't participate in any family politics. Aarav shares in front everyone how much he loves his wife when everyone is ready insult her.
Episode ends.
Click to read