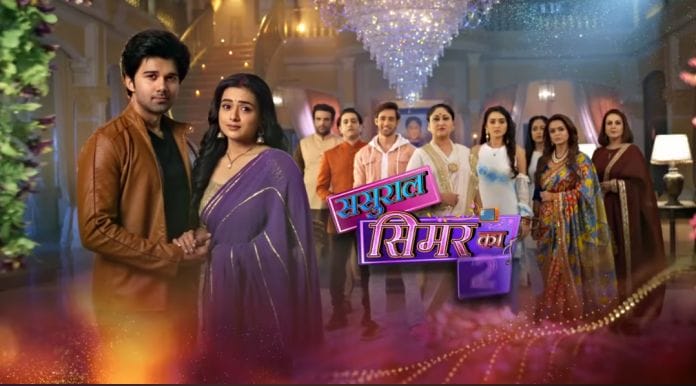 Sasural Simar Ka 2 1st June 2022 Written Update on TellyExpress.com
At the beginning of the episode, Ranbir gets shocked to see Suhani in danger. Suhani says that she knew that he will come to her. On other hand, Mamta comes to Geetanjali. She says to her that she came to know about her situation and gets worried for her which is why she came here. She asks Geetanjali to come to her house. Geetanjali refuses. Mamta asks her if doesn't help her if she lays in the same problem.
Sandhya says to Mamta that she will come with them. Roshani asks Mamta what will happen if Oswals comes to know about Ranbir's problem. Mamta asks her not to think about this. On the other hand, Suhani asks Ranbir why he broke their engagement. Ranbir recalls that his father says to him that if he marries Suhani then he will leave his mother. Later Oswals comes to Obroi's mansion. Gajnedra and others see that Geetanjali is still upset.
They try to make her happy. Geetanjali smiles seeing her family happy. Later Mamta asks them to have lunch. Reema and Simar sever the food. Sandhya says that daughters-in-law can make their house like a haven and they are blessed with good daughter laws. Reema gives dahi bhala to Mamta. She says that her Suhani also used to cook very good dahi bhala. Simar asks her where is Suhani and if everything is fine between Ranbir and Suhani.
Mamta says that Suhani is still married to Ansh and her son doesn't deserve it. Aarav asks where is Ranbir. She says that doesn't know where they are. She says that she is trying to call him but he doesn't pick up her call. Aarav asks her not to worry. Later Suhani says to Ranbir that if he doesn't speak up the truth then she will die. Ran it asks her not to say so. Suhani says that if he doesn't give her an answer then she won't come out.
Ranbir asks her to come out and then he will give her all the answers. Ranbir says that if she loves him then she should come out. Suhani says that she won't come out as he doesn't want to live with her and she can't live without him. Ishani is trying to make Suhani come out. She stops him. Ranbir says to Suhani that he won't let anything happen to her. He says to her parents that they should take care of her and he will come soon. Here Gajendra asks Geetanjali to take a rest. Then only Indu and Avinash come there. Simar hugs them.
Avinash says to them that they need not worry as they are with them. Indu says that nothing bad will happen to them as they are good people. Avinash says that he is feeling bad as they are not able to help them. He asks them to come to their house. Gajnedra says that he is so happy as he has such good friends and relatives. Then Oswal family go to Narayan house.
Click to read