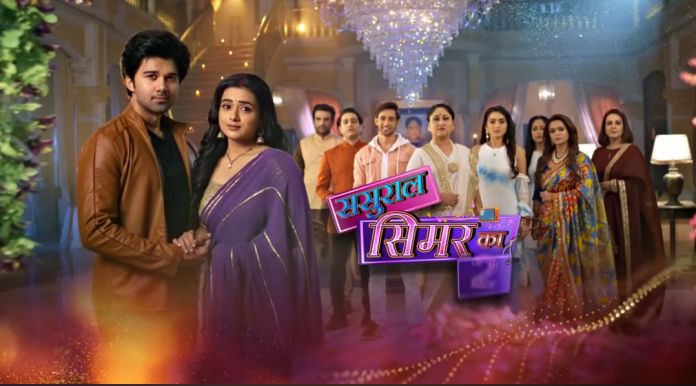 Sasural Simar Ka 2 23rd June 2022 Written Update on TellyExpress.com
Episode starts with Simar recallings Badima's opinion about Riyansh's marriage. She shares her concern with Aarav. She is confused how would she handle the situation. Aarav advises her to talk to Riyansh about his marriage in the next morning. Aarav goes to hit the sack. Simar goes to bring the water.
Simar finds loud music is coming from Riyansh's room and he is not sleeping. Actually Riyansh is dancing with loud music. She knocks the door and Riyansh opens it. Simar finds the room very untidy and everything is in disorder. But, Riyansh tries to convince her by saying that it's very common that one found a bachelor's room Messy. He lies about loud music and instead he says that he was meditating. Simar again asks him about the lipstick mark on his shirt, but he again denies. Simar says she knows whether it's a lipstick or anything else. He says it may be a lipstick mark from his from one of his general friends and there is nothing special about it. But Simar does not look satisfied with answer.
Simar asks him whether he has any girlfriend or not. He dines the statement.Simar says him about Badima's decision about his marriage. Riyansh becomes very unimpressive and scary. He says he is too young to get married and to take such responsibilities. He says he is not at all close to any girl. But then suddenly Simar finds a catcher clip in the floor of the room. She asks him about the clip. Riyansh fails to give any impressive answer. Simar gives him to choice someone. Either he will say her about the girl he likes or he will have to marry the girl who she will find for him. She leaves the room hesitatingly.
In the corridor she tries to recall the name of the girl , who had called Riyansh in the dining table. It was Ishita as she tries to remind it. In the room Riyansh looks nervous and he plans to distract Simar.

Next morning Riyansh appears in Chitra's room. Riyansh says to Chitra about Simar's concern about his marriage. Chitra looks very disgusted and angry at the same time. Riyansh convinces her to find him a girl and this duty only goes to her. Chitra promises him that only she will find him a girl.

Reema talks over a phone call about her work and next project. Vivaan asks her where have she been since the morning? Reema takes his concern wrongly and says him to find himself. Vivaan says he tries to say that he is doing this only out of concern. He tells her that he is not at all eager to spy on her. He says he sent her picture in the previous auditions and to the photographers. He says he can't bring any opportunity to her forcefully. Reema says she doesn't need any backup or any flattery from anyone else. She shows how eligible she is and how smart he is. Vivaan praises her beauty and she is stunning to him. Vivaan says you're beautiful to me, but to the judge, her age is older than the need. Reema becomes angry. Vivan says company is giving you a opportunity for a minute roll in a advertisement. Vivaan consoles her. He hugs her. But Reema says stay away from her and reminds him he wouldn't talk with any modelling agency for her sake from the day after.
Simar tries to search about the girl Ishita in social media.
Vivaan tries cool her but Reema says to make him happy she have to produce a child. They starts argue again about the child issue. Meanwhile Riyansh comes and sees one of the photos of Reema. He exaggerates about her beauty and smartness. He inspires her to do modelling. Reema asks about the detail opinion about her photoshooting. They went together in the another room.

Simar didn't find anything in social media, even using the mobile Aarav. Aarav suggests her to make a fake profile. They hug each other. Aarav goes to office. Simar decides to make a fake profile.

Simar calls Gagan about the making of a fake profile. She asks her to make the profile with some good looking picture of a instant model. Gagan completes the making of the profile and sends the id password to Simar.
Reema asks to Riyansh about her looking in the modelling photographs and Reyansh assures that she could get any job by her stunning figure. He starts to flirt her. Then suddenly the friend request comes in notification in the mobile phone of Riyansh. He accepts the request then and then. Riyansh starts talking about his upcoming marriage. He insists with flattery words to Reema to search a hot suitable girl. And he continues to flatter and Reema agrees to do that.
Episode ends.
Click to read