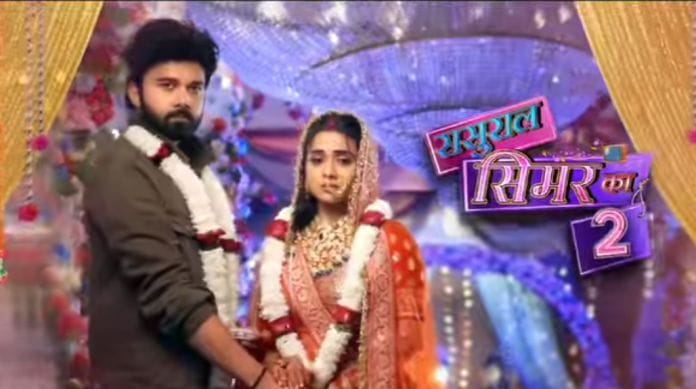 Sasural Simar Ka 2 23rd May 2022 Written Update on TellyExpress.com
Aarav comes to his room at the beginning of the episode. Dhami gets happy seeing him. She tells him that she was waiting for him. She asks him how is she looking today. Aarav ignores her. Dhami tells him that tomorrow she has called Media at home and their neighbours will also come, then everyone will come to know that she is Aarav's wife. Aarav gets shocked hearing this. Dhami tells her that she need not worry as she has fixed everything.
She says that tomorrow the whole world will know that she is his wife. Here Geetanjali says that Dhami has done all this and she thought that maybe their relationship will break but she was wrong because their relationship can never end. She adds that today she came to know that music is an art and she sings very sweet songs. She adds that earlier she thought that Simar was like Yamini but today when she sees her and Yamini in front of each other, she comes to know that she is different from Yamini.
She tells her that she wants to accept her with her music. Geetanjali gifts him Veena and blesses her. Indu says that evil can be powerful but the truth always wins. Geetanjali says that from now on both of them are friends and they have to teach Dhami a lesson. Aarav informs Reema and Vivaan about Dhami's plan. He asks Reema why Simar hasn't come home yet.
Reema says that Simar has left home a while back but if she doesn't come in 1 hour then she will call Simar. Aarav and Vivaan make a plan against Dhami. Here Sandhya tells Geetanjali that Dhami is thinking of doing something big. Geetanjali thinks what she is planning to do now. Here Reema comes to a lawyer and gives him some evidence against Dhami. Simar calls Reema and says that she has to do a task for her. Reema says fine.
The reports come the next day. Vivaan asks all the servants of the house to turn on the camera of their phones. Here Reema goes to Dhami's room and ties her hands. Here Simar gets ready for the muhdikhai ceremony. Vivaan asks Reema if she is feeling well. Reema says yes. After this Simar comes there. Aarav goes to her and removes her veil. Everyone gets happy seeing Simar.
Aarav praises Simar that she is looking very beautiful. Aarav asks Simar where is Dhami and how did she handle her. Simar says that Reema has helped her in this. Here Dhami opens her hand. She gets angry. She says that she will not leave the Oswal family. Further Dhami comes out of her room. She is about to push Simar but Aarav saves her.
Click to read