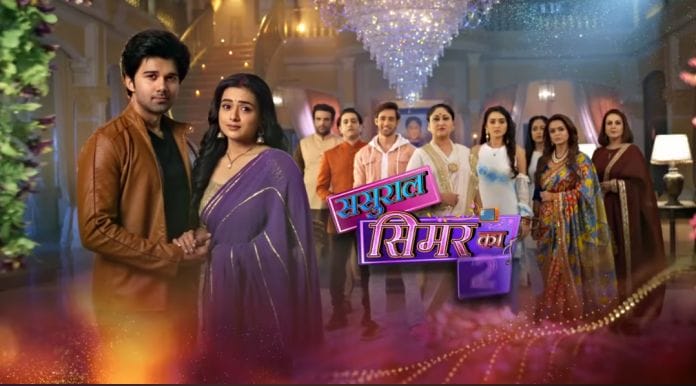 Sasural Simar Ka 2 28th June 2022 Written Update on TellyExpress.com
Episode starts with Riyansh conversing with himself about the his own bachelor party. Then he suddenly comes in the music room. There is Kabya. They each other wave their hand. Reema calls the modelling agencies. She is asked to act a badi bhabhi in the shooting. She becomes angry with her character. She becomes upset. She questions about her age and beauty. Simar comes then to Reema. She makes her known about the advent of the parents of Ishita. So she should take the responsibility as Badi bhabi. Reema becomes angry and complains about Simar's attitude to her.
Simar becomes puzzled. Simar calls her as Didi, Reema starts to grouch. Reema says she is insulted by acting management. Reema says Simar, you're so perfect. Everybody gives consent in your choice. But I don't to do anything household work. She is not eligible to do all this stuffs. She wants to focus only her career. She goes out for shooting. Simar forbids her. But she doesn't listen.
Vivaan calls someone and asks for any update for any role for Reem. But there is nothing for her. Aarav asks about his disappointment. Vivaan says about the truth that she is getting any role. Vivaan expresses their misunderstanding.
Gagan comes and he shows the sonography report, shares his tension regards the baby. Aarav and Vivaan converse about the enjoyment and satisfaction of being father. Vivan wishes a baby. Aarav explains him about the difficulties of the pregnancy of a would be mother. Vivaan understands. Aarav says the concern about a mother and the responsibility of a father. It is not a cup of tea to be a mother. Vivaan agrees that the main priority is Reema's consent. Being frustrated Reema calls a doctor for her plastic surgery and anti aging treatment.
Riyansh comes to Badima and asks for some time. He says that he is sorry. He lied everyone about his relationship. He wanted to distract everyone to find a girl for him. Now he feels guilty. Badima consoles him and explains the power of the truth. She says not to feel guilty. Riyansh feels better. Riyansh asks whether she is still disappointed on him or not. Badima says there is nothing to worry. Badima gentle grace and affection towards Riyansh. Badima again finally asks whether Riyansh is ready to get marry or not. Riyansh says yes meri pyari Bindu, I'm ready. Badima says, so be ready to be groom. Badima becomes happy.
Doctor says to Reema that she has a lovely young face, she doesn't need any lines, rinkles, and pimples. Reema shows her insecurity regarding the role of acting. Doctor gave her some vitamins and serums. Gagan calls doctor about the process of delivery. He shows his over concern regarding the baby. Aditi mocks about Gagan's hyper attitude to Simar. Simar suggests Gagan to cool himself and keep some patience. Gagan says Aarav will also act in same way when she will become pregnant. Simar becomes shy.
Guest comes. Parents of Ishita arrives in house of Oswal family. Both are super fashionable and modern. Ishita with parents enter in the home. They are welcomed in the house. Simar and Ishita hugs each other. Simar introduces every members with Ishita. Ishita also introduces her parents. Ishita's mother says to Riyansh that he is looking so handsome. Chitra says she used to do all his style statement.
Kapoor family brings some new model and new fashioned dresses and attires. Mr. Kapoor says that your dresses are not well fashioned. Everyone becomes embarrassed. They exaggerated about the fashionable dresses and their garment business and make everyone uncomfortable. Badima becomes angry. She says about the traditional living and their khandan style. Simar brings foods and water to them. She asks whether the water is sparkling or steel. Badima says they don't show off about water too. Badima converse with the family. Mr. Kapoor reminds about the notorious marriage culture. Mrs. Kapoor asks about Reema. Reema comes there then. Mrs. Kapoor she has fulfilled all the dreams and wishes of their child. Badima says that means you've spoiled your child. They starts arguing about each other's family background.
Click to read