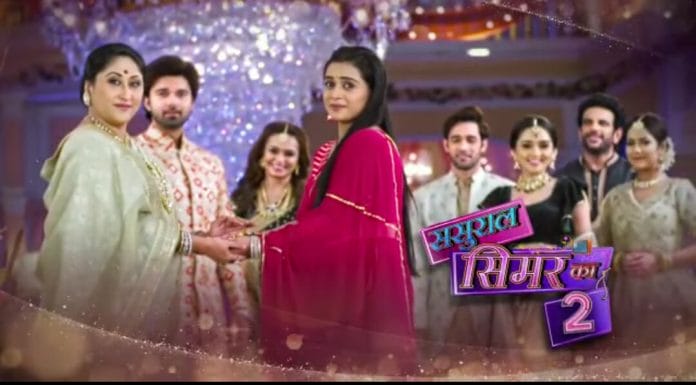 Sasural Simar Ka 2 30th July 2022 Written Update on TellyExpress.com
Episode starts with the disappointment of Vivaan. They go to visit another gate of airport. Gajendra and Geetanjali discuss about the business and new business deal. Ishita and Chitra conspire about the future plan against Geetanjali. Ishita tries to find some weakness of Badima. Suddenly Aditi and Gagan come. He complains against the Aditi's immaturity as she used consume a great amount of pickles. Aditi is forbidden to take more pickles. Sandhya offers to Aditi some delicious food, cooked by Simar. Ishita says she found the weakness. Chitra forbids her but Ishita assures that baby and mother will be safe. She will create a drama.
Aarav, Simar and Vivan are prohibited by the airport police. Simar requests the police but they are not given the permission. Suddenly Simar winks to Aarav and Aarav starts to pretend sick. He acts as if he is losing his sense. Simarand Vivan yell at the police officer to summon the doctor. Meanwhile Simar and Vivaan run in the other side of airport to find Reema. Reema is promised about the fulfillment of her dreams by Rudra. Vivan apolizes to Simar for all these turmoils. Again they start to search Reema. After seeing Simar, Rudra hides Reema from the vision of Simar. Simar asks the guard about the Mumbai passenger, but he says it is already taken off. Again Simar start to hunt Reema. Suddenly Simar listens the voice of Reema as Reema was rebuking a girl. Reema is asked to stop by Simar. Rudra forbids her to look back. But Simar continuously yells her to stop and she holds her hand. Reema is requested by Simar not to go.
She reminds her that how much Vivaan loves him. Reema says it's very suffocating to be here without her dreams. Then the last call of Mumbai flight is announced. Simar suddenly hugs Reema to stop her and continues her to remind the past mistakes is done by Reema. Simar says she won't let her do any mistakes. Reema says she has already taken the decision. Simar utters about the intensity of the love of vivaan. Simar makes her understand about the futility of fame, and popularity and the importance of a husband and a family. Vivaan runs towards to hug Reema and says how much tensed he was. He was about to lose her. Vivaan defines how sincerely he loves her. He is nothing without her and he will definitely die without her.
Vivaan asks Reema why she is where with Rudra. Simar lies to Vivaan that she has come to see off Rudra. Vivaan believes it and expresses their struggle to find her. Vivaan goes to Aarav. Simar holds the hand Reema. Rudra tries to stop her but Reema goes away. Simar insults for his satanic plan and desperate attitude to harm Reema.
Episode ends.
Click to read