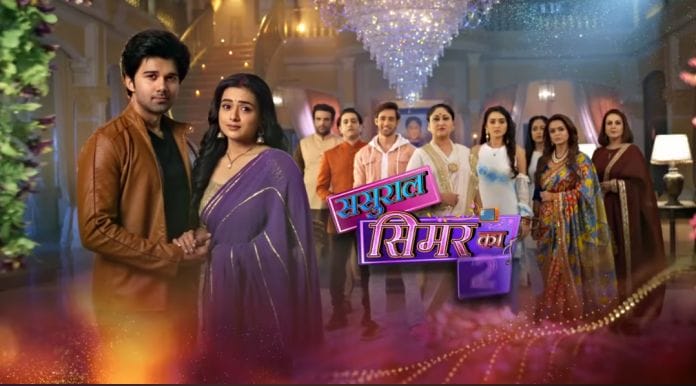 Sasural Simar Ka 2 3rd June 2022 Written Update on TellyExpress.com
At the beginning of the episode, Simar is singing a song. Aarav smiles seeing her happy. He goes to her and hugs her. Simar gets shy. She says that someone will see them. Aarav says that no one is here so she should not get shy. Simar says that they need to go out as Geetanjali is calling them. Afterwards, Geetanjali and others take blessings of Gopi. Raj and Chitra come there. They say that Geetanjali should divide her property.
Geetanjali gets angry. Vivaan asks Chitra and Raj to stop their drama as Geetanjali is still weak. Geetanjali says in anger that nothing will happen to her as long as they are with them and soon she will snatch her business from them too. Raj looks on. Later Raj says that he should stop their drama as some guests are about to arrive at their house. They call Dhami and welcome her. Dhami smiles. Raj says that from now Dhami will stay with them. Dhami looks at Aarav.
Simar comes in front of her. She says that she won't let her do drama in her house. She then goes to Geetanjali and says that she should not get worried as soon she will give a befitting reply to them. Sandhya agrees with Simar. Then they hear Yamini's voice. Geetanjali is shocked to hear her. She and the others go downstairs. Geetanjali shouts at Yamini. Raj says that Yamini is also his guest and she will also stay with them. Dhami says that this is good news. She says that she should celebrate it.
She pours wine into the glasses. Yamini says that there is no need for alcohol as songs have enough addiction. Geetanjali recalls Gopi and goes to Raj. She says that he should stop all this as Yamini trapped his father like this. Raj says then he will like to hear Yamini's voice. Yamini starts singing. Simar goes into the temple and starts singing bhajan. Yamini says that she doesn't even know how to sing properly.
She says that she is such a terrible student. She adds that she will show her how to sing. Geetanjali says that Simar is a good singer. She then asks Simar to do a competition with Yamini. Simar refuses. Sandhya stands with Simar and says that they need not do all this. Dhami and Raj say that Simar should do a competition with Yamini. Geetanjali says to Simar that she knows that she will win this battle. Simar says that she will take part in this battle only for her.
Click to read