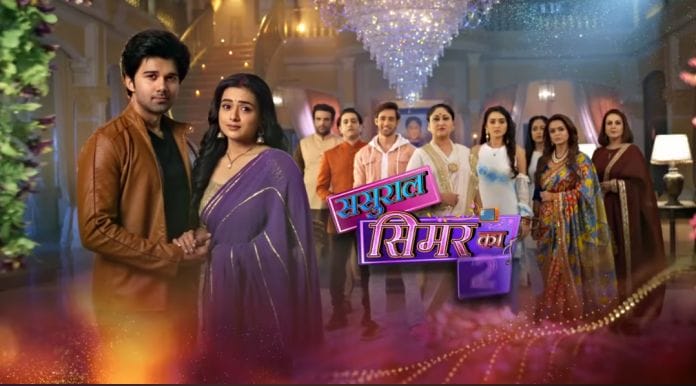 Sasural Simar Ka 2 5th February 2022 Written Update on TellyExpress.com
At the beginning of the episode, Simar tries to convince Aarav that this time her brother will not betray Aditi. Aarav asks her why is he not picking up their calls then. He adds that he has cheated on her sister in the past as well so he doesn't trust him at all. Here Gagan comes to meet Aditi. The watchman asks him who is he. He says that he is Simar's brother and wants to meet her.
Watchman goes inside the house and informs Geetanjali that Gagan has come here. Gajendra says that today Gagan's death has brought him here. Here Gagan tears his engagement card and says that he is not going to get engaged to Radhika. And today he will tell everyone that he loves Aditi and has regrets for his past mistakes as well. Here Simar and Aarav come to Sandhya and ask her how is her health. She says that she is fine now.
Simar gives her medicine and further looks at Gagan from the window. She tells this to Aarav and only then she see that Gajendra is going towards Gagan with a gun. Simar and Aarav get shocked seeing this. They both go downstairs and tell Reema and Vivaan that Gagan's life is in danger. They all go outside. While Gajendra starts firing the gun on Gagan. Aarav and everyone else tries to stop him but the guards grab him.
Further, Geetanjali Devi comes there and shots at Gagan. But the bullet hits the watchman. Simar and Reema ask Gagan to run away. Gagan leaves from there. Next Avinash arrives at Oswal Haveli. Simar wants to go to him but he stops her. Geetanjali Devi comes there and tells Avinash not to try to enter her house. Avinash asks her not to be worried as he has come here only in search of Gagan.
Geetanjali tells him that he had come here but ran away after saving his life. Avinash is about to leave from there but Geetanjali Devi taunts him and tells him that he did not give good value ​​to his children at all. Earlier his daughters harassed her and now his son is troubling her. Avinash says that her sons have also tortured him and Aarav had come to marry Simar even after he was imprisoned.
He adds that today he will get his son engaged and he will not return to Aditi's life. Saying this he leaves from there. Whereas further Geetanjali Devi tells Chitra that she has called a man for Aditi's wedding. Then Dilip enters the Oswal Haveli. Geetanjali asks him to come inside the house. Simar gets sad here. Aarav tries to console her and hugs her.
Episode ends.
Click to read