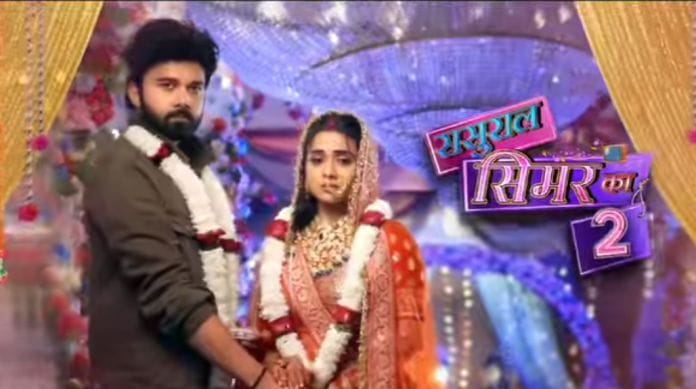 Sasural Simar Ka 2 7th July 2022 Written Update on TellyExpress.com
Episode starts with the temple of Ganapati ji. Badima asks Riyansh whether he is happy with his marriage or not. Riyansh says he completely agree with the opinion of his pyare Bindu or Badima. Badima calls Reema to start another rasam for Riyansh. But she is not there. Simar says she have gone to pick some guests from airport. Badima gets angry and rebukes Chitra as it's her duty to inform Reema about the Rasam. In absence of Reema, Badima asks Simar to complete the Rasam. She marks a Sindoor-paste tilak on Riyansh's forehead.
Meanwhile, in Airport Reema recalls how Chitra threatened her to get pregnant one way or another, how Vivan mistreated her on her behaviour. In the Airport as she is trying to get out of the car, a very handsome and well mannered gentleman help her to get out of the car. She thanks him and leave.
Vivan tries to call Reema but can't gets her. Chitra comes and asks him about Reema's where abouts. She angrily says Reema better be around soon and leaves.
Simar calls Reema and asks her , where she is? Reema suddenly cuts the call and calls the Guest she comes to pick up. As she dials the number ,the phone rangs in hand of the gentleman from the airport. That Man turns out to be the guest. Reema introduces herself as younger sister of Roma. The man looks wondered when he learns that Reema is married at very younger age.
In the temple , Araav helps Simar to put on her sandal. Simar feels very shy. Vivaan smlies happily looking them.
The guest starts flattering Reema about her beauty. They start chattering with each other and becomes friendly. The guy thanks Reema for coming to the airport to pick him up.
Simar comes Vivaan. Vivaan is very upset about Reema's over sensitive behaviour. Simar, advices him not to mention anything negative about Reema's age in front of her. Because she is very sensitive about her look and age. She also advises him to compliment her in every single moment. Vivan understands the fact. Meanwhile , that Guest looks very impressed about Reema's look and flawless skin. He asks to take a picture of her. She agreees.
Simar , tries to explain Vivan the fact that in spite of being beautiful and talented Reema is not getting enough opportunity. She advises to handle Reema's more pretty sensitively.
The Guest click a beautiful picture of Reema and compliments her. Reema feels a bit uneasy and just smiles back.They both leave the airport in the Guest's personal car.
Vivan, says he is very afraid of Reema behaviour.
Badimaa, with his two sons, is back in their home discussing about inviting the guest.
Badima discusses about the invitation of the marriage and distribution to Giriraj and Gajendra. Everyone calls and messages Badima, Gajendra, Giriraj, Sandhya, Chitra, Aarav to congratulate for the Riyansh's marriage. Everyone is confused how everyone gets the news of the marriage. Riyansh says this news is spread for the video which is posted by Ishita. This becomes trending. In the video, Kapoor family announces the marriage of Riyansh and Ishita in grandeur manner. Badima becomes angry to see their pompous attitude. In the video, Ishita also dances in a hotty and exaggerated manner. Oswaal family becomes upset and confounded to see their splendid manner.
Reema converses with Rudra. Rudra talks in a megalomaniac voice and appreciates her beauty. They goodbye each other. Badima becomes vexed and irritated to see the video and their mannerless disposition. As the Kapoor family violates ideals and traditions, she becomes annoyed to see their culture. Simar and Sandhya tries to manages the situation but Badima becomes more angry as They Kapoor family didn't invite them personally. Then Kapoor family comes. They greet each other. Oswaal family welcomes them. Mrs. Kapoor excuses themselves but Badima says Kapoor family failed to maintain the formality.
Episode ends.
Click to read