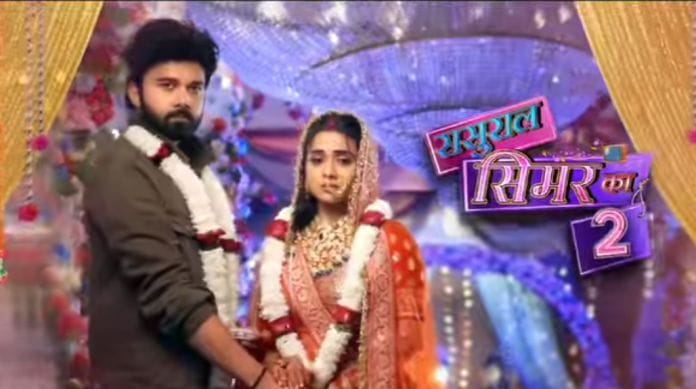 Sasural Simar Ka 2 7th June 2022 Written Update on TellyExpress.com
Episode starts with the beginning of the competition. Aarav says to Simar to perform with her soul. He is always with her. Imagining their romantic relationship Simar starts to perform. Everyone encourages her. Judge seems to be very happy. Every member of Simar's family looks enthusiastic. Evils are tensed to see the flawless voice of Simar. Yamini is asked to perform on the stage. She starts to perform with confidence.
Reema says to Vivan with agitation that as soon as Yamini starts to perform, she mesmerizes everyone. Giriraj says, by hook or crook Simar should not win anyway. Dhami assumes that Simar'll not win. Giriraj says that they should not depend only on assumption. They should do something mischievous. He has a plan.
Dhami asks Simar and Dhami to come on the stage. She asked to judge to announce the result of the first round. Judge says that both are too good with the tune, and voice of both is fine. But as he have to choose one, he announces Yamini Devi as winner of the first round. Evils look happy. Simar becomes tensed. Yamini says to Simar that she will not be able to qualify the next round. Then she will be out both from the competition and Oswal mansion.
Second round starts. Instrumental round. Dhami as anchor asks to start this round with Yamini with her instrument. Dhami twisted the plot. She announces that same instrument can't be used by both the singers. Two competitors have to choose two different instruments. Dhami asks Yamini to choose her first.
Yamini chooses Tanpura. Aarav says to Badima that this is a cheating. As they are well known to the fact that Simar sings with the Tanpura only. They should do something. Badima says, if we would show any obligation that will show our weakness. We should think first. Yamini starts singing. Dhami appreciates Yamini for her performance.
Dhami asks Simar to come on the stage and choose her instrument. Simar holds the mike. She says every housewife faces new problems in their daily life. They overcome all these with smiley face. That's how today she wants to choose her instrument. She starts to play some glasses together. Every oswal member claps with her rhythms.
Dhami says to audience that we all know who is the winner, but we want to know the result form the judge. Judge says Yamini played the instrument like thunder and overwhelmed us.
But what Simar does that is much above of the singing. She uses her imagination and uses glass as her instrument. And Simar also joins their family with her music. That's the original soul and charisma of music. Judge announces Simar as the winner of the second round. Evils look unhappy. Dhami says okay, let's see what happens in the third round. Who will win the third round, she will be winner of the every heart.
Third round starts. Yamini and Simar look to each other and start performance.
Fingers of Simar cuts down with the string of the Tanpura as Chitra mixed up some dust of the glass with the string. Blood comes down from her fingers. Both sings their best. Suddenly Badima is seen to come on the stage to play the Tanpura. Everyone is confounded. Sandhya awestrucks to see. Gajendra says mother can do anything for their child's wellbeing.
Simar completes her performance. Badima reminiscences how she used to play musical instrument before. Judge asked to announce the result by Dhami. Who will the two round of the three she will be winner. Judge announces Simar as a winner. Everyone claps and smiles. And evils look unsatisfied. Badima hugs Simar on the stage. Oswal family come on the stage.
One by one starts to congratulate her. Aarav binds her fingers with her handkerchief. Reema reminds Dhami how discouraged Simar and asks her to pack her luggage. Yamini says their struggle can't be in vain. They defeated in the competition but not in the fight with them. Fight will be continue.
They will not defeat. Badima says, your defeat was confirmed when she uses music as her weapon of this war. Saraswati will curse her. Badima examples Simar how she uses the music as a Sadhana. Yamini looks anger and runs out. Everyone claps. Vivan and Aarav cheers up for Simar. Badima kisses Simar. Badima thanks the audience for supporting her. Episode ends with the happy face of the audience.
Click to read