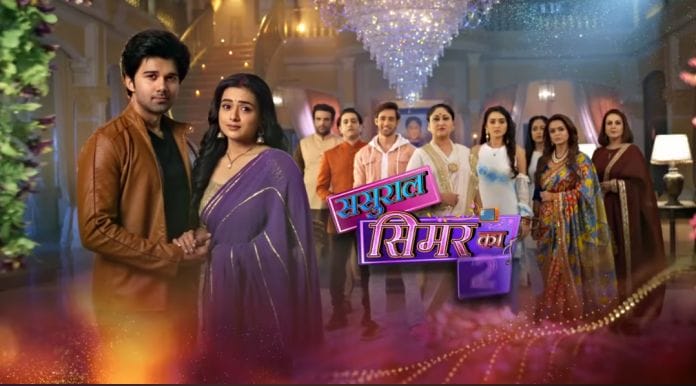 Sasural Simar Ka 2 9th July 2022 Written Update on TellyExpress.com
Episode starts with the conversation of Riyansh with her roguish friends. They insist and challenge him for trapping Kavya again. Riyansh takes it as his name ego and messages Kavya again with sugar quoted words to meet him for last time. Meanwhile Chirag starts to like him and says her to meet again. Kavya agrees. Seeing them interested, Simar and Aarav goes to do hifi but they both hesitate. Kavya becomes puzzled to see the message.
Vivaan asks Reema why didn't she accept his phone calls. Reema gives a vague answer. Vivaan offers Reema to plan a holiday trip in Malaysia but Reema says him that he wants to take this trip as a chance to make her pregnant. Vivan gets upset and embarrassed. They argue and Vivaan goes to hit the hack. Meanwhile Rudra messages Reema, "Good night beautiful!" , Reema gets flattered.
In the next, Kuya Pujan is happening. Everyone arranges for the puja. Indu debi comes. Chitra Devi pokes her about the same status of the relationship. Sandhya manages the situation. Badima being angry for the late. Kapoor family comes with grandeur manner. Mother of Mr Kapoor also comes. Maddy becomes restless and irritated to see the traditional arrangements of Oswaal family. Ishita also makes fun of the rituals and timing. They boasted their beauty consciousness.
Both family greet each other. Badima greet the mother of Mr Kapoor. Badima reminds them about the punctuality of the rituals. Sandhya forbades Rishita and Riyansh to meet before marriage as it's also part of the ritual. Maddy takes entry in the puja in a irritating and mannerless way and says without him anything couldn't happen. He orders his assistants to take every perfect shot. Badima becomes confused to see him and gets irritated. To know his identity she becomes confounded. Rasam starts. But Maddy interferes in the puja and asks Badima to change the coconut as it's shape is ugly, but Simar says they can't say this coconut is Sagun's naryel. But Maddy insists to change the coconut and he himself throughs the coconut.
But Simar catches it somehow with her the hem of her lahenga. Simar becomes angry and forbades him to click a single photo of the ritual. Maddy boasts himself but Simar says he doesn't have any right to interfere anything. Maddy becomes angry and goes away. He feels insulted and Aarav insists him to get out. Mr Kapoor tries to manage the situation and requests him to adjust. Meanwhile Rudra comes in the functions and Reema becomes happy.
Simar explains Ishita about the importance of the puja. Riyansh and Ishita follows her. But again cameramen come and start to take photo. Maddy again interrupts Ishita for the perfect poses. To give the perfect poses Ishita falls the kalas of the puja and it breaks down. Everything scatters. Badima orders to stop the Tamasha. Badima says to stop the puja but Simar makes her understand about the importance of this ritual. Badima agrees in dilemma.
Episode ends
Click to read