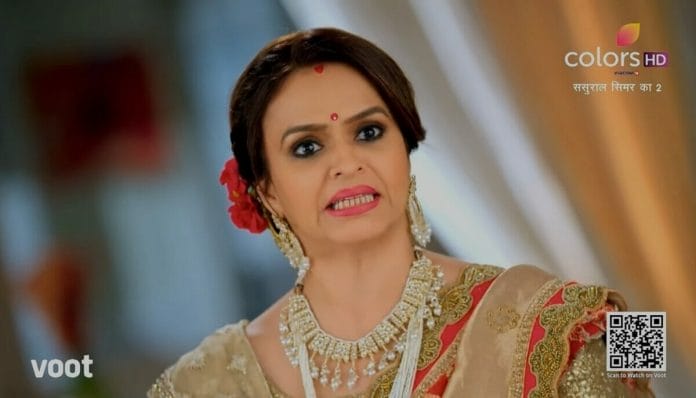 Sasural Simar ka 2 Upcoming Story, Latest Gossip , Future Story, Latest News and Upcoming Twist on tellyexpress.com
Colours TV's popular Sasural Simar ka 2 show will show an interesting plot twist. A ugly statue has appeared in the house of Oswaal to captivate Aarav. Reema and Simar tries to find out the original history of the statue which belonged to a Bengali zaminder family. Sandhya and Chitra behave like Bengali bahu as they are spelled by the negative power.
In today's episode, Badima orders Maharaj ji to find out the statue and who will search it first, he or she will awarded greatly. Reema says Simar in aside, these Chitra and Sandhya are playing the role of Mausumi and Lopa who were the mother and aunty of Laboni. They two used to save Laboni by hiding them.
In the video, it is seen that Aarav is entering the home carrying the statue in his lap. Reema also says Simar that Aarav himself is hiding the statue and that is the missing. Later, the statue is discovered from the room of Aarav, but he can't remember anything.
In the next episode, Guruji suggests that he would destroy the statue with the last rite. Badima accepts his proposals and orders the servent to bring out the statue by hook or crook. To hear the announcement, Aarav becomes agitated and offended as this statue is not harming anyone ultimately.
The stubbornness of Aarav becomes disgraceful to others. Being angry, Sandhya asks the reason behind the their loathsome attitude to the statue. She adds how it is creating a abominable effect on Aarav.

He emphatically says that it shouldn't be driven away. When Badima declares about to recalcitrate the statue, Aarav threats others with a knife to keep it in their home. But then suddenly Simar starts supporting Araav and says that everyone shouldn't disturb Araav. Later Simar with others plan to organise a pooja to drive away the evils.
Why did Aarav oppose to drive away the statue? Simar to support Aarav?
Keep following this space for more information about your favourite shows.