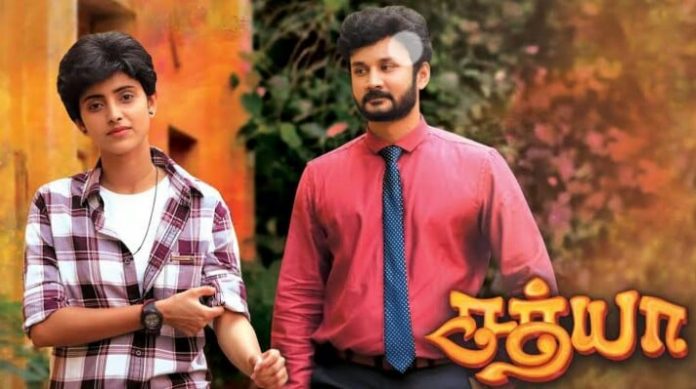 Sathya 13th July 2021 Written Update on TellyExpress.com
The episode starts with Prabhu slaps Divya and tells her that he gonna live for Sathya and her happiness hereafter. He takes the painting and leaves from there glaring her. Prabhu removes the frame and dries the painting using dryer. He neatly pasted the painting in new frame and takes it Inside his room. He wishes to wake her up but later changes his mind seeing her slept well. He sits beside her and keeps staring the painting. He tries to show the painting to her but she asks him to stop disturbing her let's think about first night tomorrow. He asks her to look at him once. She gets up irritately and gets surprise to see the painting. She questions him where did he find it? Why is it wet? Prabhu lies to her it was in store room that's why. She wipes out the wet from it.
Sathya questions him Whom take this from here? He informs to her may someone removed it while doing decorations. Sathya comments that no one has responsibility here. Prabhu tells her that he don't get sleep that's why he went to search for it. Sathya thank him. He asks her to hang it on wall after this painting came only this room looks so good. She says to him she is also very happy now. Both are staring the painting happily. Prabhu tells her that their dream gonna turn true now. Sathya says to him that first night is tomorrow. Prabhu complaints that she is misunderstanding him.
Sathya asks him to lay down. He is staring her without sleeping. Sathya opens her eyes and asks him to close his eyes. He questions her Is first night confirm tomorrow? She nods with him. Veerasingham questions her why did she bring him here? Anitha tells him that she is here to remove the plug. Prabhu can't able to stay without AC. They can kidnap him if he comes out of that room. Veerasingham appreciates her idea. Anitha takes the plug. Power off in that room. Prabhu falls on Sathya both are having eye lock. Prabhu and Sathya are arguing with each other by saying he will go and take candle.
Anitha asks Veerasingham to beat on his head and make him faint. But Sathya comes out. Anitha asks him to beat her first night won't happen. Veerasingham follows her. He tries to beat her. He closes Anitha mouth when she about to shout. Sathya leaves from there taking candles. Veerasingham can't able to hear Anitha scolding him so he beaten her she faints and falls on him.
Sathya enters into her room holding the candle. Prabhu is staring her without blinking. Oliyile terivathu song plays at background. Both sits opposite to each other and looking into her eyes. Both lost in their eyelock. Kathir and Sasi notices every where is power but not here. Sasi says that there is no chance to fuse out here. May its Anitha's planning. They checks it and finds it truth. Power comes back Prabhu tells her there is no need of candle now they blow it off .
Prabhu tries to go romantic with her. She alerts him that First night is tomorrow. He makes faces and lays down on bed. He confirms with her that first night is tomorrow. Clock strikes 12. Prabhu questions her why did she get up? Clock strike at 12 she asks him to check the clock. He tells her its clock it was here from long. She tries to explain him tomorrow started but he pretends like don't understand anything. Prabhu teases her and hold her hand romantically. He dreams like Sathya dancing for a romantic song.
Episode end.