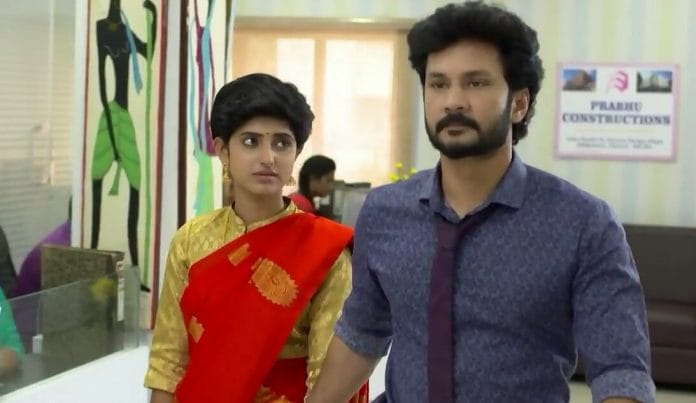 Sathya Spoilers, Latest Gossip , Future Story, Latest News and Upcoming Twist

Sathya is pretty tomboy girl story . This story shares about this girl helping nature to needy people . She is an bike mechanic living in slum. She is famouse in that area , even rowdies too scared to approach her because she will show black and blue to them once they try to touch her. Sathya likes her father a lot so she follows her father path after he passed away.
Her family running in her money but her mom doesn't like her way of behaviours. She wish to see Sathya as normal girl like her sister Divya but Sathya has no interest to live that life. Divya is an selfish sister always use sathya for her needs. Divya wanna be a daughter in law of rich house. She even in relationship with someone .she perfectly hide it from everyone and use sathya to ruin all alliance coming to her .
Prabhu falls in love with Divya his alliance come to her Divya gives Sathya horoscope to him. Their horoscope match well. Their marriage got fixed. Prabhu comes to that slum to see Divya often but ended up seeing Sathya there. They turned to be friends , slowly Sathya fall in love with Prabhu.
Divya comes to know Prabhu and Sathya were friends and planned to separate them before he comes to know Sathya is her sister. Because she lied to him she is single daughter. Prabhu falls for her hearing her voice and same thoughts of him but unfortunately its all Sathya's . Its unaware of Prabhu. On Divya marriage day with Prabhu , Divya ex. Lover kidnap her she met with an accident , so Sathya marry him. After their marriage how Sathya life turning ups and down is the story currently taking place in the show.
Except few none other liked Sathya entry there as daughter in law. Anitha and Veerasingam disliked Sathya from the begin . Currently Sadhashivam joins his hands together with them seeing Sathya over shining in that house . Everyone supporting her decision in everything it makes him think like he has no value in that house . More then he has bad impression on Sathya brother Kathir . Whenever they meet each other their hateness increased more. He showed this anger on Sathya.
His daughter Soumya fall in love with Kathir , Sadashivam disliked this and tried to hurt Kathir in many way. He has no interest on Soumya till he starts poking his nose in his personal life. He too fall for Soumya they are maintaining their relationship as secret from Sathya and Prabhu. Sadashivam wanna get rid of Kathir and Sathya from his life. So he planned to arrange Soumya marriage . As per his knowledge he knew well if Sathya comes to know his love matter she will do anything to stop this marriage. He wished to use this chance to use against Sathya to kick her out of that house.
Kathir whom thinking Sathya as precious decides to not share anything to Sathya . To see her leading her life without problem so he break up with Sathya to save Sathya from Sadashivam. Sathya stopped one of the biggest project of Prabhu . Sadashivam ask Sathya to apologize to Shareholders Prabhu stops her .so shareholders return their shares when Prabhu stops Sathya to appologize from them and takes her out by holding her hand .
Will this affect Prabhu company? Whom will take the responsibility? When will Sathya comes to know the truth about Kathir love.