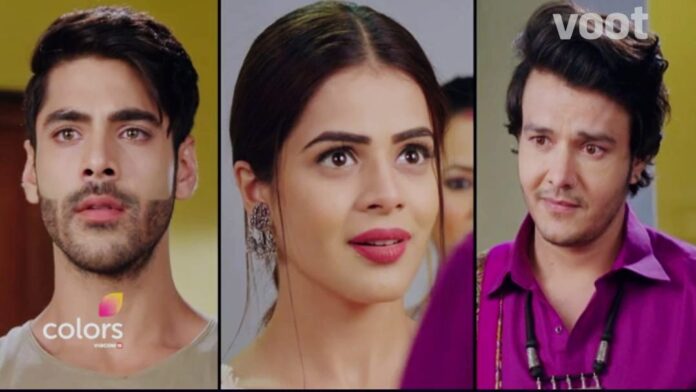 Shakti Astitva Ke Ehsaas Ki 18th January 2021 Written Update on TellyExpress.com
Episode starts with Shyam saying to Virat that Heer is mine and my best friend.You can't take her from us. Virat gets angry and says what did you just say? Don't you dare call her your friend! Else I will kill you. Shyam says control your emotions otherwise your customers will think that you have some other motive. Heer and others stop them.
Shyam tells Heer to get ready as its time to collect money. After that they will celebrate Lohri too. Shyam takes Heer with him. Virat recalls lohri memories related to Heer. Heer was excited to celebrate lohri and Virat said if someone feeds this special laddoo made of jaggery seasame rice to his/her lover three times on the occasion of lohri then they always stay together.
Someone pays money to Virat and he asks where can he get the laddoo ingredients? He goes to take them. Heer gets ready and gets emotional. She remembers her family and says one day they will get used to it. She will behave rudely to them. So that they forget her. Shyam comes and says Heer is looking so pretty. He praises her.
Heer says I am wearing all these so that Preeto starts believing that I completely transformed myself into a kinnar. But I will not dance or celebrate. Shyam is about to leave but heer suddenly hears Preeto's voice from outside. Preeto says loudly that I will celebrate lohri happily. Come and see that your Preeto is here.I never celebrated any occasion without you. You will feel my pain for sure.
Shyam says now Heer has to dance with them to show Virat too participates in the function. Parmeet and Sant wish happy lohri to Virat. Virat asks why aren't you celebrating this in your house? Sant says we won't leave you here alone. Heer dances with kinnars. Virat pulls Heer aside and feeds her the special laddoo.
Heer says you have no Shame. I won't eat it. Virat says eat slowly. I know you will not listen to me easily. Virat leaves and Heer gets emotional. Daljeet right after then kidnaps Heer and locks her in a room. He ties her with rope. Heer tries to shout but her mouth is filled with paperball. Daljeet spreads kerosene around Heer and the ground catches fire. Angel looks for Heer.
One kinnar notices fire and she says maybe Heer is inside. Virat rushes to save Heer. Shyam also runs to save her. Rohan extinguishes the fire. Virat breaks the lock using a stone and Shyam and Virat both go inside. They save Heer. Heer comes outside holding both their hands. Everyone looks at them.
Episode ends.
Click to read: