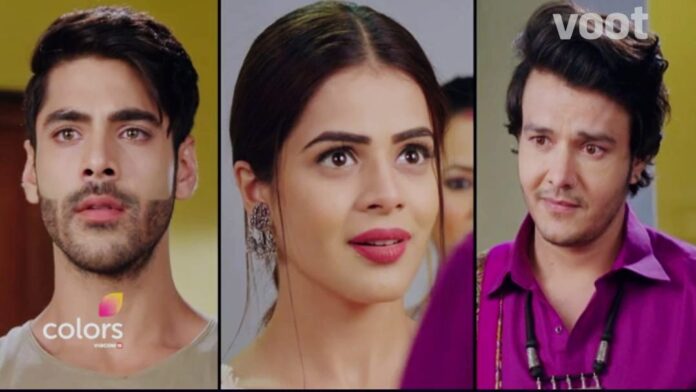 Shakti Astitva Ke Ehsaas Ki 25th January 2021 Written Update on TellyExpress.com
Episode starts with Virat saying he can't live without Heer. Isha says let her feel that you left her. She tells him to close the tea stall. Then only she will miss him. Virat asks is it possible? Isha says I have seen similar cases where this strategy worked. Virat says then I'll do it in my style. Let's wait till morning and we'll leave from here.
Next day Isha finishes the packing. Virat says he should make last good bye tea atleast. Parmeet gets happy knowing that Virat is coming back. She tells everyone in the family that nobody will ask him anything about what happened. Everyone agrees
Virat enters Angel's house to sell good bye tea. Heer comes out. Virat says good bye to Heer. He says he won't be back. Heer says finally you have taken right decision. Heer says to Shyam drink tea made by Virat for the last time. Virat says to Shyam Heer loves sweets. You can't start your friendship by having sweets. Heer says Heer used to love sweets, not Apsara. I hate sweets. She tells him not to come back. Heer turns around her dupatta gets stuck with Virat's watch. They look at each other. Virat leaves.
Heer notices Virat secretly. She starts crying. Virat sees her Heer suddenly hides. They recall their sweet memories. Heer says I hope you'll understand one day Virat that I was never perfect for you.
Virat comes to his house. Isha says come with me everyone is waiting for you. Virat thinks about Heer. He suddenly wants car keys from Isha and says Heer cant finish everything like this. I need some answers. Isha tries to stop him but he leaves by car.
Heer remembers Virat and imagines Virat in front her. She gets shocked. She says why am I seeing Virat everywhere? Someone keeps hand on Heer's shoulder.
Isha enters, Parmeet asks where is Virat. Isha says Virat suddenly left. She doubts Virat will take some wrong action. Parmeet gets disheartened. Sant gets angry and says now I can't wait anymore. He informs police department to find Virat as soon as possible.
Heer sees Angel. Angel says she has sent Shyam to some other place. Shyam and Heer's friendship is irritating her. She says she will not allow it. Angel hears some noise but she doesn't find anyone. Angel doubts that Virat can't leave so easily.
Heer is out for collecting Nek. Heer sees Virat in front of her. She gets surprised. Virat gets out of the car and he holds Heer's hand and pulls her near him. They stare at each other. Rest of the kinnars separate them from each other. They try to stop Virat forcefully but Virat pushes them away. They fall. He takes Heer with him and puts her in car. He starts driving. Heer gets shocked.
Episode ends.
Click to read: