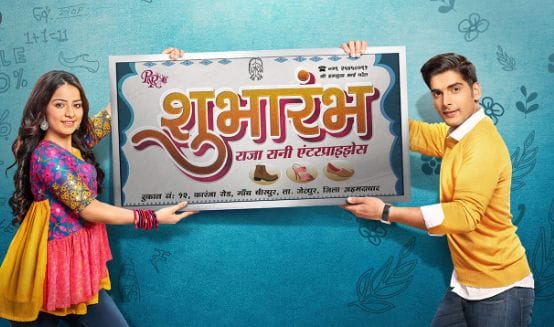 Shubharambh 1st April 2020 Written Update on Tellyexpress.com
The episode starts with everyone getting shocked seeing Raja taking money sitting on the chair. Pandit ji says that Raja's Rajyog has started. Gunwant shouts Raja and kicks the chair. Raja falls down from it. Everyone gets shocked seeing it. Gunwant slaps him hard. He asks about his guts to sit on his chair. He says that only the owner has the right to sit on the chair and not a servant. Raja gets shocked to the core. He says that he's the owner of the shop.
Rani looks furious at him. He says forget about 10 lakh but he'll not even give 10 rupees to a servant like him. Aasha and Utsav too comes there. He reveals that all these while he was acting to like him. He says that it's because of him he and his mother was in the house else they have the respect of a dog. He says about faking his love. Raja recalls Gunwant's fake love on him. He says that Rani got to know his real face and thus he threw her out of the house.
Raja recalls Rani saying the truth to him. He says that he says that it's because of his father he was tolerating all this while as he has named all his properties on his name. If it wasn't for the will he've thrown him and his mother out of the house and shop long back. He says that he doesn't care if his mother lives or dies. Aasha and everyone fume seeing it.

Raja is totally broken while Rani comes to support him. Aasha confronts Gunwant that in what way Raja showed less love for him. She says that both she and Raja trusted him blindly. She brought up her Raja saying that he's the only one for him. Still, why did he do this? She asks answer shaking him. Kirdida comes and blames Aasha for faking kidnapping for 10 lakh. Rani reveals that it's her drama to bring their true colors out.
Kirdida blames her for still doing her drama. Gunwant says that after Dhanwant's death it's him who took over the shop. They say that they did all this for their rights and now the shop belongs to them. Gunwant says that he doesn't care if the three live or die. Gunwant says that today he will do the thing which he should've done long back. He pushes Raja out but Fufa Ji holds him. Fufa Ji looks furious at him.

Precap: Fufa ji asks being an elder how could he behave this way. He shows him the papers which Raja has signed on Gunwant. He says that the shop's owner is still Raja shocking Gunwant and Kirdida. Gunwant furious at Rani about to slap her but Raja holds his hand midair. He pushes him and Kirdida comes in the middle but he pushes her too. He asks both to get out and never show their face to him as they are dead for him.