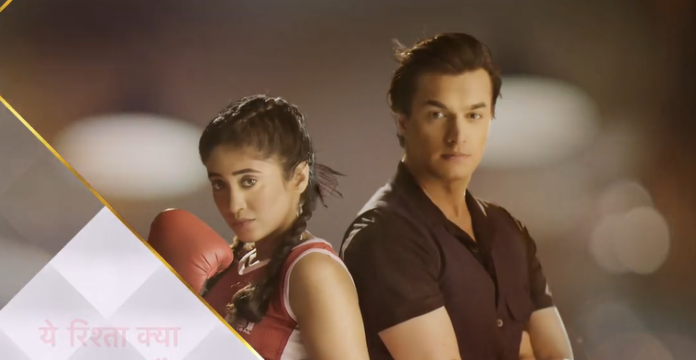 Yeh Rishta Kya kehlata Hai Upcoming Story, Spoilers, Latest Gossip , Future Story, Latest News and Upcoming Twist on TellyExpress.com
Star Plus show Yeh Rishta Kya Kehlata Hai is gearing up for high voltage drama. In the show next, Kairav and Sirat's hit and miss moment will be shown. It will be interesting to watch, how Kairav will react seeing Naira's face alike.
So far in the episode it is seen, Kairav see Sirat and recalls about Naira. He shouts out for Naira. Kairav run to cross-check. He finds no one. Kairav thinks he might have imagined Naira thus, no one is here. He cries for Naira. Sirat goes from behind. Warden comes and asks Kairav what he is doing in boxing area and why he is sacred. Kairav cries. Warden tells to Kairav maybe place is new thus, he is sacred and takes Kairav with him.
Other side, Sirat hides from guard out there and goes to her room. Here, Kairav thinks about Naira. Hostel staff talks about Kairav. A man out there says Kairav's case is different because he lost his mother recently. Other member says thus, his father was getting emotional why dropping Kairav here. Meanwhile, Kairav think whether it was Naira or his illusion. At Goenka house, Kartik comes back. He see Akshu and picks her in his arms. He gives Akshu back to Suwarna and Manish. Kartik goes to his room and opens the trunk. He take out Naira's picture and says he wanted to busy himself by taking care of their children but he is again weak post Kairav left. Mainsh see Kartik. Kartik hugs Mainsh.
In the morning, Kairav see Naira's picture and asks if it was she or he just imagined. He thinks imagination can't be so real. What more will happen in the show will be interesting to watch.
Stay tuned with us for more news, spoilers and latest updates.