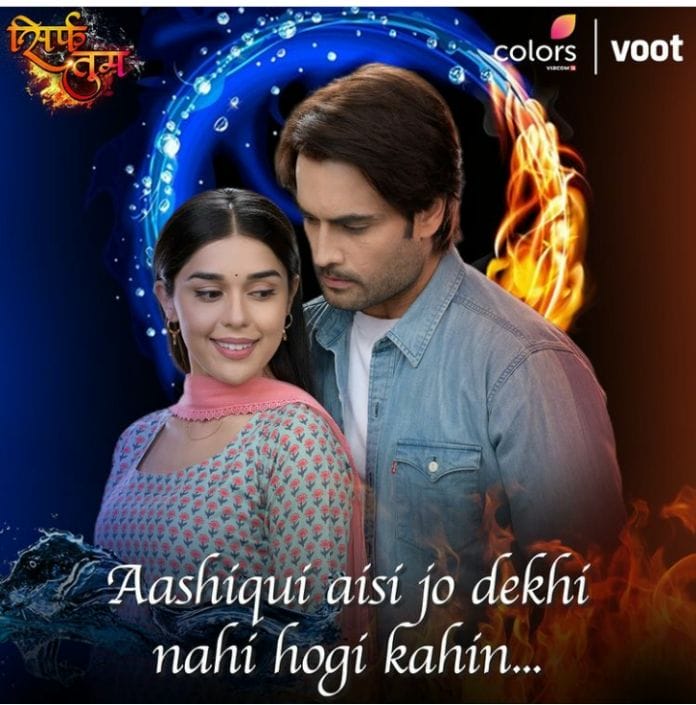 Sirf Tum 11th February 2022 Written Update on TellyExpress.com
The episode starts with Ansh scolding the goons for not doing their job properly. They couldn't make Ranveer break his promise by raising hand on them. But they attacked Suhani and Ranveer saved her which made him a hero in front of her family. Ansh gets angry. Ranveer feels how will he cook now as he has no idea about it. Suhani gets worried for him and Mita comes to meet her.
Mita says she was tensed for Suhani and Ranveer both so she came to meet Suhani. Mita asks her why she didn't eat food yet. Suhani says she can't even feed Ranveer. Later she gets an idea and she asks Mita for a help. Mita understands that Suhani wants to give her food to Ranveer without anyone's knowledge. Mita says she will help her. Suhani tells her to wait near the door to watch anyone is noticing or not. Suhani leaves with food and first aid box to meet Ranveer.
Suhani gives him the food and is about to leave silently but her dupatta gets stuck with somewhere. She thinks Ranveer is holding it and she tells him to let her go as she can't wait here. Ranveer assures her saying the latter needs not to worry for him, he will manage everything. He knows Suhani wont break her father's trust on her. Suhani leaves and Vikrant Mamta notice her. Vikrant warns Mamta to convince Ranveer to go back home at any cost. He won't listen to any excuse this time. Mamta goes to meet Ranveer and asks him how he got injured.
Suhani looks here and there and comes back home. Kamini comes in front of her and Suhani gets shocked. Kamini questions her how can she ruin Rakesh's reputation like this by giving food to Ranveer secretly. Everyone comes out to see what happened. Kamini scolds Suhani and informs Rakesh about her act. Sudha supports Suhani and says Ranveer rescued her several times then why can't she help him by doing the bare minimum.
Suhani also didn't do anything wrong by trying to stop the goon from attacking Ranveer. Kamini says but she won't give up that easily. She brings some grooms' photos and shows them to Suhani. She asks her to choose one guy as each and everyone of them earns well.
Mamta applies ointment on Ranveer's wound and asks why he didn't file any complaint against the goons. Ranveer says he taught them good lesson. Mamta recalls Vikrant's warning and tells Ranveer to not upset his family by staying away from them. Ranveer says Mamta is talking about Vikrant only who doesn't want his son's happiness because of his false ego. Ranveer tells her to choose between his happiness and Vikrant's ego.
Mamta says she always prioritised Ranveer's happiness so she met Suhani's family but she doesn't think Suhani will go against her parents for Ranveer. Mamta insists him to go back home and talk about things he wishes but he says he won't leave without finishing which he started.
Suhani replies to Kamini that she won't marry Ranveer if Rakesh doesn't give consent but that doesn't mean she will marry some other guy. Suhani leaves saying that. Kamini tells Rakesh to be strict with Suhani as the latter is crossing limits. Kamini says they should get Suhani married as soon as possible. Rakesh says he wants some time to think about it. He recalls how Ranveer was beating the goon for Suhani. Vikrant arrives and asks Rakesh why he is not choosing any groom for Suhani.
Rakesh tells him to come in and Vikrant asks did he change his mind and wants an industrialist's son for his daughter? He says now he is getting why Ranveer moved into a house near Suhani's home. Rakesh says Suhani will get what is meant for her, he asks Vikrant to handle his own son and he will handle his daughter. Suhani brings tea for Vikrant but he leaves. Dadi asks him to take aarti and offering.
Vikrant takes aarti and notices the burnt wedding card of Ranveer and Suhani near Matarani. He thinks Rakesh is just acting but in real he wants Suhani and Ranveer's marriage. Mamta asks Ranveer she can't understand why Vikrant visited Suhani's house. He says he also doesn't know but if Vikrant tries to humiliate Suhani or her family then he won't even get chance to regret this time.
Episode ends
Click to read