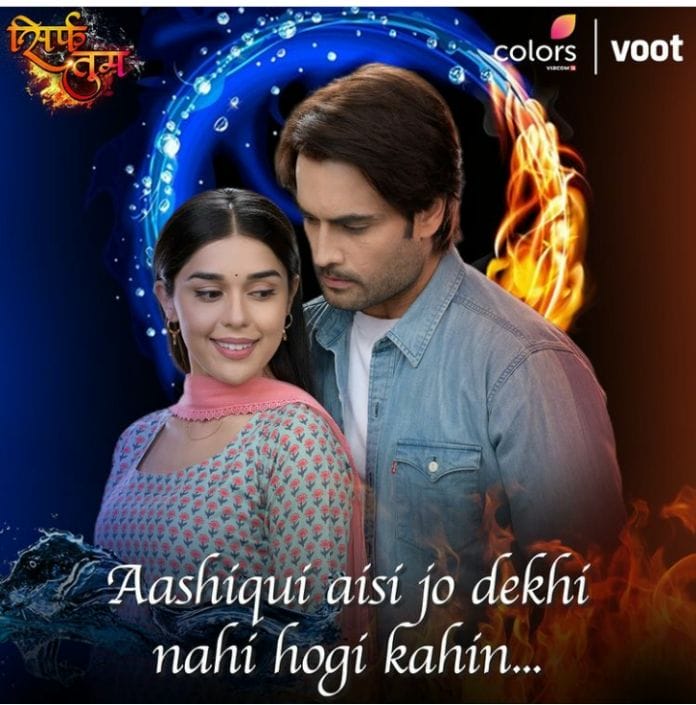 Sirf Tum 16th November 2021 Written Update on TellyExpress.com
The episode starts with Ranbir coming with the girl in front of everyone. He says he is not lipgloss that she will apply it on her mouth. He says his heart has no brain thus he wants her to kiss him in front of everyone. That girl gets afraid and others tell Ranbir to leave her. Ranbir forces her and she runs away. He chases her. That girl bumps into Suhani and the latter is about to fall but Ranbir holds her hand. Some paint falls on his Jersey and he gets irritated.
Suhani sees her torn form and starts crying. Ranbir looks at her from behind. Riya catches the girl and asks her how dare she tried to kiss Ranbir. She replies it was just a joke but Riya warns her not to do that again as she loves Ranbir. The girl tells Riya to lift up Ranbir's mood.
Ranbir asks Suhani why is she crying. Suhani says counter is closed and she can't get another form now. Ranbir snatches the keys from the guard and takes two forms for Suhani. He gives her saying if one gets lost she can use the other one. Suhani looks at him but his members call him for the match. Ranbir gives her phone and feels something. He leaves. They fail to see each other.
Ansh tells his team member that Ranbir doesn't value time and he hates him for some reason. Ranbir comes to field. Host welcomes chief guests Vikrant Oberoi and his wife Mamta. He is a builder by profession. Host calls Ansh and Ranbir to felicitate the chief guests. Ansh gives bouquet to Vikrant and says he is his inspiration.
Ranbir goes on stage after removing his painted Jersey. He gives the bouquet to Mamta instead of Vikrant and hugs her. He calls her mother and ignores his father. Mamta tells him to welcome his father too. Ranbir says he is not interested to welcome a person like him. Vikrant gets offended.
Suhani looks for Riya and Rakesh enters college. Ansh makes plan to make Ranbir lose. Rakesh and Suhani both go to football ground. Ranbir plays well and makes one goal. Vikrant tells Mamta to leave with him before Ranbir insults him more. Rakesh meets Vikrant and gives him the file. Rakesh says he got to know Ranbir is topper of the college. Mamta praises her son and Vikrant tells her to get inside the car.
Ansh scolds his members and tells them to anger Ranbir so that he gets distracted. Ansh and Ranbir look at each other. Ansh's team members try to anger Ranbir by talking ill about his sister. Ranbir beats the guy and everyone stops him. Ranbir chases the guy and beats him. Ranbir's friend cheers him up. Suhani comes in between the guy and Ranbir. Ranbir is about to punch him but stops seeing Suhani. Suhani covers her face with her hand. She runs away and Ranbir sees her. He smiles.
Episode ends
Click to read