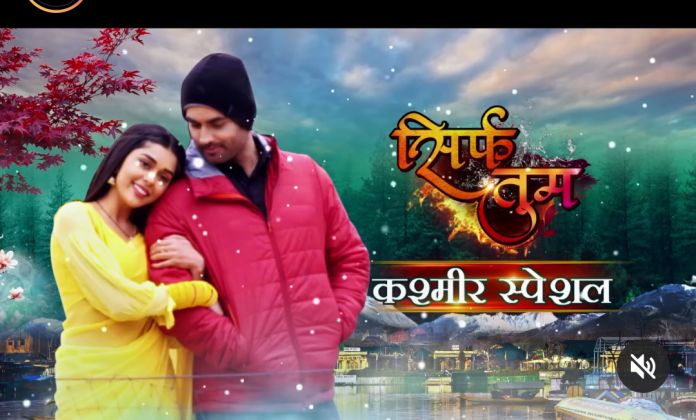 Sirf Tum 23rd June 2022 Written Update on TellyExpress.com
The episode starts with Kamini saying the jewels should be more expensive as it didn't meet the standard of Oberois. Suhani says one must see the pure intentions behind these gifts not the cost. Kamini says she is taking her in laws' side. Kamini teases Nikita saying she should learn something from Suhani.
Suhani says she wants to go to sleep and Sudha replies tomorrow will be a very hectic day for her. Before leaving Sudha teases Suhani saying she should tell Ranveer to leave on time as it's not right to stay awake for long before wedding night.
Suhani finds Ranveer behind her and Ranveer says he thought she is missing him. She says Roshni told them not to meet each other before wedding night. He should believe in such customs. He replies he doesn't think so. He says he decorated the mandap himself, for their wedding so he couldn't apply mehendi on his hand.
Ranveer asks Suhani to write her name on his hand. She does so and he finds his name on her mehendi easily which delights her. He adds his brain works faster in her matters. She says this wedding seems like dream to her. He says they both will take pheras tomorrow and she will be his legally wedded wife so he is meeting Suhani for the last time tonight. He makes her wear the chunri and they share a moment.
Vikrant talks to someone over phone asking if everything is set according to his plan. Mamta brings turmeric milk for Vikrant and gives him medicine. He says he already took it and why does she want to reduce his pain when she only put salt in his wound. She says she supported Ranveer doesn't mean she left his side. He says she chose Suhani for Ranveer and threw out Asha despite his refusal. Now she is showing fake concern to him. He says her joy will be temporary.
Ansh applies mehendi on Asha's hand and gets happy to see her smiling face. He says after a long time they are happy. They both dance and celebrate the moment. Next day Nikita makes Suhani ready for her wedding. Suhani looks beautiful in a white lehenga. She comes downstairs and her family compliments her look.
Rakesh says he tried to fulfil her dreams and did what he could do for her and if there's anything left then he apologises for that. She asks him not to do that and hugs him emotionally. Ranveer also comes to his family wearing a white sherwani and he looks handsome. Dadu asks about Vikrant and Vikram says he will reach mandap directly after some time.
Suhani's family greets Ranveer's family and all of them get inside the banquet. Ranveer makes faces at Suhani and she feels shy. He holds her hand and she hesitates. Everyone gets shocked on finding three mandaps in the venue. Ranveer calls Raghu and John and questions them how come there are three mandaps when he decorated one mandap only last night.
Raghu says he is also confused as they cross checked everything. Ranveer calls the manager of the banquet and asks him what is this. Manager replies why Ranveer is surprised as they arranged everything as per the instructions that have been given to them. Ranveer asks who told him to decorate three mandaps. Vikrant arrives and Manager points at him. Asha and Ansh also enter the venue and dance happily.
Episode ends
Click to read