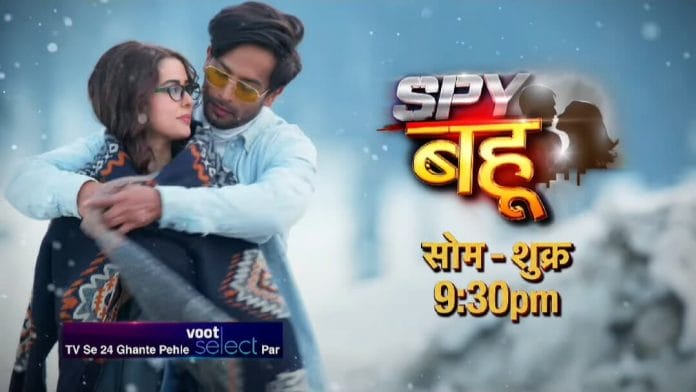 Spy Bahu 25th July 2022 Written Update on TellyExpress.com
The episode starts with Yohan and Sejal waking up. Yohan finds his shirt button entangled in Sejal's mangalsutra and teases her for having creative romantics ideas and asks from where she gets it. She tells it comes just like her hiccups and only comes for him. The alarm rings due to which Sejal hurriedly wakes up breaking the button. Sejal tells she will stitch it back but Yohan tells its fine and he will go to take shower. He teases her saying if he should leave his shoulder behind for her.
Sejal gets a message with picture from Kashmir Valley where she spent her childhood and gets shocked. She calls the one who had sent the sms. The mysterious person on call addresses her as Mahira which further stuns Sejal. The person further tells her that whoever she is, she isnt cause of her own brother's death and says her parents must be so hurt seeing Mahira becoming reason for Farid's death. She manipulates Sejal saying even Yohan is going to hate her once he knows about her truth.
Sejal panics and thinks she needs to inform about all this to Sk sir. She is about to call but decides to go and talk to him in person rather than on call. Sejal tells Yohan that she has some important work to finish and will be back soon. Sejal leaves the house and manager is shown following her. Sejal gets a call from Minal who tells her about suspicious man who had come to know about her last night. Sejal tells Minal about Veera Nanda being SirJi and she must have sent the man. Sejal realizes Veera may be knowing her truth and wanted to confirm if she is Mahira or not.
Sejal tells how Sk sir had trained a common girl like her and sent to Nanda house as spy. Minal tells Sejal to keep her and Yohan's relationship safe. Sejal decides to tell everything to Yohan. Sejal starts writing everything on letter. She remembers when she met Yohan as a kid in Kashmir and he didn't tell his name, she had said that she will be calling him as cuckoo. She cries badly and also puts hers and Farid's DNA reports in the envelope with the letter.
Sejal stealthily places the envelope on Yohan's office table. Later Yohan is shown reading it. Sejal waits for Yohan's message. He tells her to meet at night. Sejal feels happy that he might have forgiven her and get ready to meet Yohan. Yohan is stunned to see Sejal dressed beautifully. He hugs her and Sejal says sorry for all the lies and her weakness. Yohan tells its fine but she should share everything with him in future. The episode ends with Sejal confessing to Yohan that she loves him very much while the mysterious girl is soon to enter their lives.
Click to read