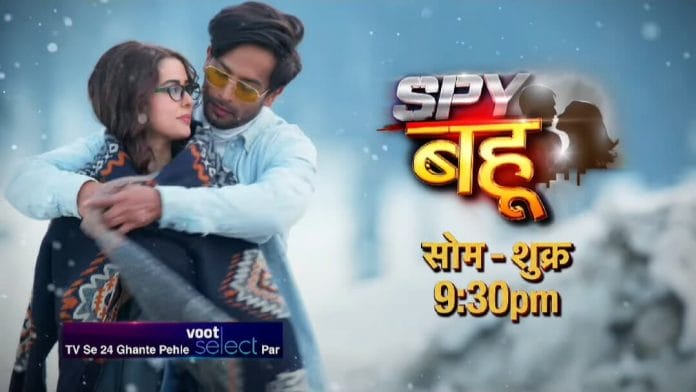 Spy Bahu 26th September 2022 Written Update on TellyExpress.com
The episode starts with Sejal asking inspector about Ahana and requesting to show her statement but he denies showing it to her as its breech to the rules. He tells that Ahana's medical reports already proved that she has been physically assaulted but they can wait for Yohan's medical reports to come and find out if Yohan is one who had molested Ahana. Sejal tells that Yohan is innocent and requests police to let her meet him once. Police grants permission for 5 minutes.
Arun is stressed about Yohan's arrest. Shalini tries to boost him up and says Ahana is doing all this to take revenge. Krish asks what if Yohan had committed the mistake. Arun tells he is confident that Yohan would never do such a thing and Veera already ruined his life but he won't let Yohan's life be ruined. Shalini tells they are all together in this and specially Yohan's biggest strength Sejal won't let anything go wrong. Sejal meets Yohan who is feeling guilty and helpless. She asks him to remember what had happened that night.
Yohan says he remembers Ahana coming to his room and trying to get close but he kept pushing her away and then fell unconscious and doesn't remember how he has those nail marks on his body. Sejal tells him not to feel disheartened and she completely trusts him. Lawyer tells Arun about how law is more inclined towards females in such cases and also Ahana's medical reports already prove her claim. Arun asks lawyer to free Yohan from all this. He tells about requiring a proof and says about waiting till Yohan's reports come.
Sample from nail marks on Yohan's body and chest are taken for investigation. Sk sir tells Sejal not to take stress as she is feeling dizzy. He shows her recorded statement of Ahana. Ahana told inspector that she was hired by Veera to act as Mahira and didn't know Veera was terrorist. She fakes a story about her falling in love with Yohan seeing his good behavior but Yohan started touching her in wrong way and even promised to get married after Sejal had left them but Sejal returned back. Inspector asks her why did she go to hotel last night. Ahana lies that she was afraid about being killed by Veera so she thought to get help from Yohan.
Ahana tells Yohan pushed her on bed and shows her injury marks too. Sejal tells Sk sir that all this is false. Inspector informs Sejal and everyone that sample from Yohan has Ahana's DNA. He tells about case being filed on Yohan. Arun loses his temper and says he will fight against this order. Sejal encourages Yohan and says she trusts him but he feels guilty. Sejal tells Sk sir how Yohan had changed the hotel last night and wonders how Ahana knew about new hotel when Yohan himself didn't know. The episode ends with them realizing someone is helping Ahana while Veera Nanda is shown smirking.
The episode starts with Sejal saying Veera how she could think that Bappa being in the house something wrong could happen. Arun shouts at her for killing Aarti and destroying his family. Veera tells Krish not to believe them. He says he has himself heard all her confessions as he had forgotten his wallet and came back from midway. He tells he hates her. Veera starts laughing and picks up gun from the drawer. Yohan tells her to shoot him.

Veera gets shocked to see the gun was empty. Yohan shows that bullets are with him. Arun tells Yohan to get her arrested. Veera starts laughing crazily and says they don't have any proof. Shalini removes pallu from her face and says she will give statement.
Veera is puzzled to see her alive while Krish happily hugs her. Shalini tells about how Veera har shot her but Sejal and Yohan saved her on time. Drishti says Veera had tried to kill her too. Sk sir comes there with police and congratulates Sejal for completing her mission as Paro and getting most wanted terrorist arrested. Yohan tells them how Sejal had never lost her memories.
Veera laughs and says the game is still not over. She is taken to jail. Sejal asks about Ahana and Harsh says her location cannot be tracked. Yohan thinks if he should tell about last night. Arun asks forgiveness from Drishti for his bad behaviour. Krish feels guilty and is about to leave but Sejal tells him that he has not done anything wrong and its his family too. Arun hugs Yohan, Drishti and Krish together. Yohan thinks he should tell Sejal about what Ahana did last night.
Click to read