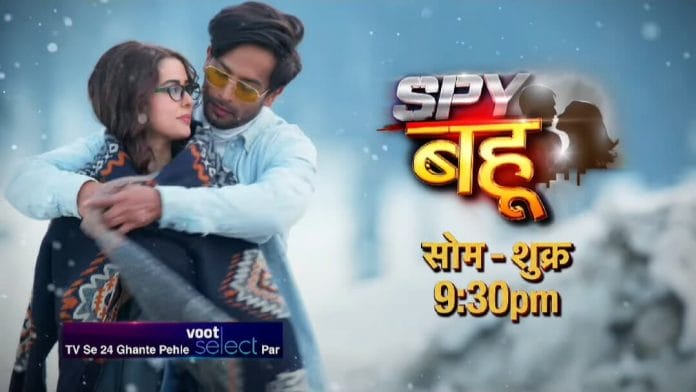 Spy Bahu 28th September 2022 Written Update on TellyExpress.com
The episode starts with doctor checking Sejal and saying about her blood pressure falling drastically. She advises Sejal to have complete bed rest or else complications in her pregnancy may increase. Sejal is worried about Yohan's well being. Arun tells her that they cannot risk her life to keep Yohan safe. Drishti says Shalini has gone to find lawyer. Sejal tells its useless now as no lawyer will accept the case and suggests that Yohan should fight his case himself.
Yohan is sitting helplessly in jail, he feels traumatized with the recent incident and tries to remember what happened that find but gets disheartened when he cannot. He imagines Sejal sitting by his side encouraging and caressing his face. She slowly disappears. Later Sejal comes to meet Yohan and asks him if he can fight case for himself. Yohan agrees to do it for them and their baby. Sejal promises him to find evidence and asks him to sign the papers. He does it and inspector asks Sejal to leave as meeting time is over.
Inspector informs Sejal that they cannot get hold of Arbaaz even after all the investigations and waiter isn't ready to tell them anything. Sejal requests inspector to let her once interrogate the waiter as she may find some clue which can help Yohan during his case. Inspector agrees but Sabnam Gulati comes there and starts taunting Sejal saying that because of wives like her who support their husband's wrong doings women fail to get justice. Sejal in return taunts Ahana for being a disgrace to the females who are really victims but people fail to trust them because of fake cases like shameless Ahana.
Sabnam says no one can meet waiter without her permission and she will be first one to take his statement. Sejal and Yohan plan their strategy for the case and Ahana discusses her story with Sabnam. Harsh informs Sk sir that even after raiding all the places they have failed to find Arbaaz anywhere. Informer brings Ahana and Arbaaz's call records and says there is no record of their calls to each other. Sk sir says its really important to get hold of Arbaaz and asks his fellow colleagues to keep finding Arbaaz.
At court, Yohan sees Ahana and feels angry. Sejal and Nandas come to support Yohan meanwhile the general public shout and protest that Yohan should be hung to death. Sabnam tells the judge the case is clear and she has already submitted the evidence. She calls Gopal, waiter to give his statement. He lies about Yohan ordering two plates of pasta and one bottle of expensive champagne.
Yohan says its not true and he had ordered only soup. Sabnam asks judge not to let Yohan threaten Gopal. They show cctv footage of Ahana coming out from Yohan's room crying. Judge asks Yohan if he has anything to say. Sejal asks him to wait. SK sir comes to court with something and passes it to Yohan. The episode ends with Yohan says he will show something which will change Gopal's statement.
The Episode Ends
Click to read