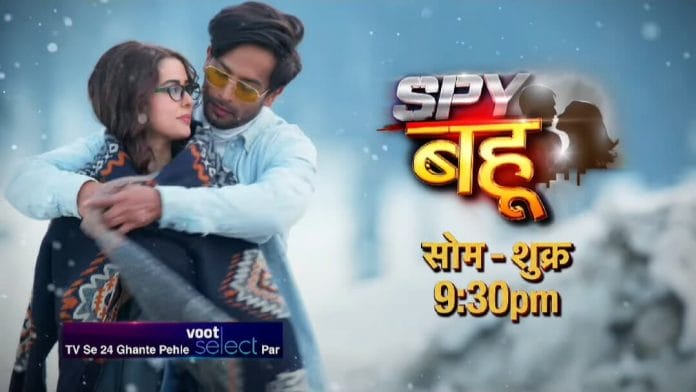 Spy Bahu 9th August 2022 Written Update on TellyExpress.com
The episode starts with Yohan and Sejal waiting outside room in night school. Ahana thinks she needs to stop from Sir Ji's truth getting revealed. Sejal tells Yohan to make himself strong as he may feel hurt seeing the truth inside the room. She says how Aarti didn't die due to health issues but was killed. Yohan asks who did it but she says he will get all the answers inside the room. On entering the room, Sejal is shocked to see Veera doing prayer in front of Aarti's picture.
Veera acts emotional and call it Aarti's temple she built years ago. Sejal is perplexed. Veera says she called Abhishek as terrorist now what does she want to blame Veera as. Sejal tells about Veera being behind pushing kids and innocent people into terrorism and has always wanted to kill Drishti and Yohan. Sejal also says Veera had killed Aarti and her skeleton is there on the chair. Yohan is shocked but goes to check. There is a white cloth lying on the chair but on removing it turns out to be portrait of Aarti.
Veera says Drishti has been missing Aarti so she got it made and again acts emotional. Sejal asks Yohan to believe her. Veera remembers how she had seen the red light blinking in her room and realized someone was coming there. Mahira tries to manipulate Yohan too. Sejal says she will anyhow find out the skeleton as it must be hidden inside the room. She looks around and is about to open the cupboard but Yohan stops her. He says her to stop lying again and again. Sejal sees the pendant on the table and says Yohan to give her one last chance.
Sejal remembers how Farid had said her there is drugs inside the pendant so that they can suicide instead of getting caught. Sejal is shocked to see Yohan and Drishti's pictures in the pendant. Veera acts innocent and says its her children pictures and nothing else. Yohan calls Sejal a terrorist and says she won't be satisfied taking one life. He doesn't look at her. Ahana says she can't let her brother's murderer go without getting punished as she had promised herself. Police comes and arrests Sejal. She hugs Yohan and says she hasn't done anything.
Veera acts like getting heart attack and falls unconscious, Ahana asks Yohan to see what happened . Yohan picks her up and takes her to his car. He doesn't look back at Sejal while she keeps crying and calling him. Ahana tells Sejal they both are two sides of the same coin. One lied for country and other for terrorism but she proved herself while Sejal couldn't. Ahana tells Sejal she will make sure Yohan hates her with all his guts. The episode ends with Sejal being taken by police while Yohan's words of her being terrorist keeps ringing in her ears and she feels emotionally disheartened.
Click to read