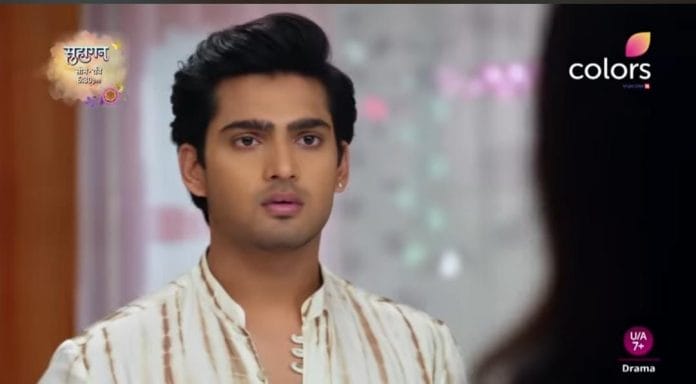 Suhaagan Spoilers, Upcoming Story, Latest Gossip , Future Story, Latest News and Upcoming Twist on tellyexpress.com

Suhaagan is ready for more drama as Payal says to Krishna that she might be pregnant!
In the last episode, everyone asks Payal to see the doctor but she says she's okay. She says that she is just stressed out due to so much tension in the house. Krishna asks Bindiya to stay away from Payal and makes it very clear that nothing happened between them last night.Bindiya's dadi and others from Chiraiya come to their place for Diwali and Dhanteras celebrations. They are welcomed by Baldev and Bindiya.
Payal makes a face that makes her look stressed so Krishna asks what's wrong. Payal says that she is stressed about something that she can't share with him right now. After he insists, Payal says that she is not feeling well since the past few days and that she might be pregnant.
Payal says that she is very puzzled and worried. Krishna asks her not to worry. He says that he would bring his mother now and ask her to do the needful and guide her.Payal stops him and says that they can inform them later when they are completely sure.
She sends him to bring a pregnancy kit for her. After he leaves she takes out Nidhi's positive pregnancy kit so that she can change it with the one Krishna would bring.
Sakshi tells people from Chiraiya that Bindiya and Krishna made out last night which makes them happy and they start teasing Bindiya and start dancing to music. Bindiya feels weird because she doesn't know the background.
In the next episode, Krishna would be seen announcing about Payal's pregnancy in the house. How would Bindiya take out Krishna from Payal's trap? To know more, keep watching Suhaagan.