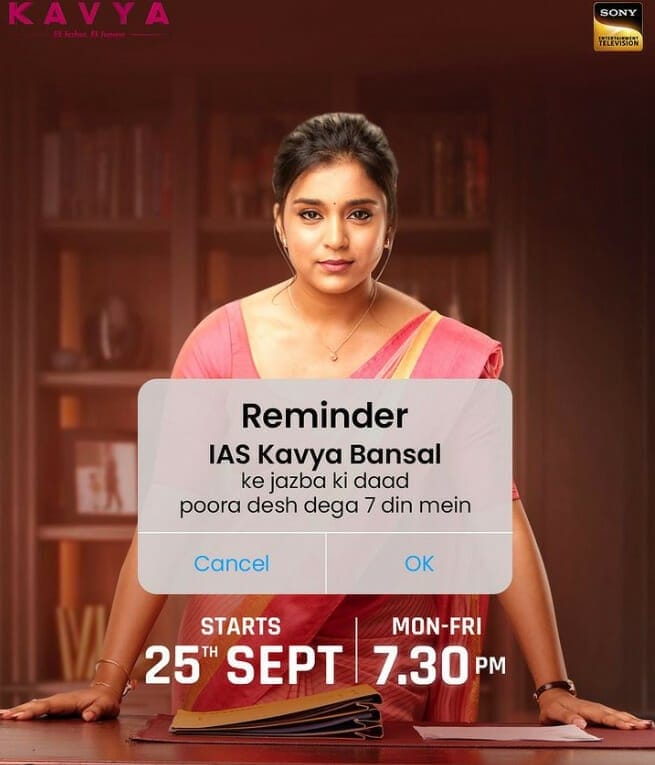 Sony TV's upcoming show Kavya Ek Jazbaa Ek Junoon's promotional clips are exciting the fans. The stand-up comedy by the show's lead, Kavya, is hitting audiences' hearts hard.
Sumbul Touqeer is playing the lead. The actress is so natural in her art. The emotional scenes by Sumbul are a treat for the eyes. It comes out so perfect that tears roll from the viewers eyes too.
In the latest promos, the way Sumbul as Kavya is portraying the pain is simply outstanding. One can feel it. With the positive comments on the promos and the acting of the female lead, it seems the show will be a hit on prime time in the 7:30 PM slot, undeniably.
A social media user and Sumbul fan wrote : When each promo makes me think this is the best one so far, Sony TV …Kavya through standup comedy showing truth of Society norms, Sumbul public will call you Kavya Bansal after show starts! Promo is as powerful as you- said the second
Excited and can't wait are other comments on the show.
Sumbul's acting and her jodi with Mishkat Varma are earning her a separate fan base. The BTS from the sets of Kavya is filling hearts with happiness. Sumbul and Mishkat will surely give tough competition to the other Jodis out there.
Fans are also impressed with the channel for bringing content-driven shows without worrying about TRPS.
A fan said, Realistic approach after a long time! This is what ITV has been missing. Encourage the young generation to be passionate about their careers, let them understand how society works and change it for the betterment. Thanks, Sony for not showing typical in-laws matters or bigamist ideas the other channels are obsessed with. I know you will have to touch base with marriage in this show too but don't make it typical. Please continue to give positive messages. We know that the TRP might not be impressive due to the reach but I hope for the best!
We all can't agree more. Kavya show has the potential to break records. The show will hit the screens on September 25, replacing Hum Rahe Na Rahe Hum.
Stay tuned with us for the latest news and updates on TV serials.