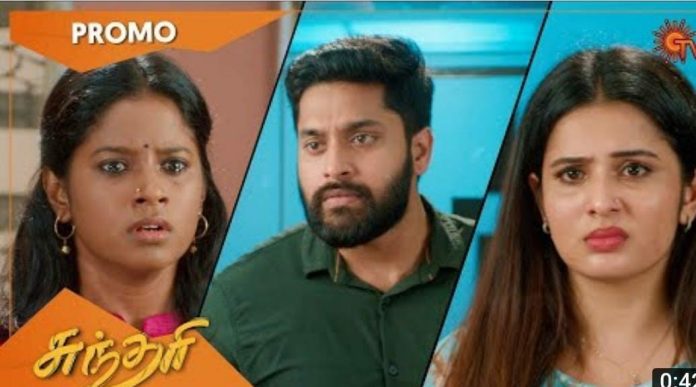 Sundari Upcoming Story, Spoilers, Latest Gossip, Future Story, Latest News and Upcoming Twist, on TellyExpress.com
Sun tv fame Sundari serial never fails to entertain its audience since the first episode is now gearing up for further drama. Now serial concentrating on Sundari will be in trouble!
In Today's episode we see; Valliyammai praises Nila for talking matured in young age and complaints to Sundari that she didn't learn it. How could she talk like that infront of Murugan. Sundari tries her best to make her understand but she stops her. Valliyammai tells her that Malini is his daughter so he knows well to perform her marriage. Sundari clears to her that Malini has feelings on Krishna.
Valliyammai advises her to stop poking her head in their matter. All love relationships are not ending in marriage. Sundari advises to her that she won't create any problems. Later Karthick meets Krishna in park. He asks him why didn't he shared anything with him? Doesn't he met Sundari after he married to her? Then why did he hiding this from him.
Murugan shared to him whatever happened in village? He shares to him that Malini has feelings on him. Krishna tells her he is helpless in this matter. Karthick asks him to take Sundari's help to change Malini's mind and marry her. Murugan will get angry on them first and forgive them later. After that Anu scolds her mom for looking down on her husband always.
In the upcoming episode viewers will see; Anu will ask Sundari why did betrayed her doesn't she treat her like her own sister. Mallika will ask Sundari why did she lie to Anu? She will tell her that she decided something she might support her for it. Karthick will think that Murugan and Anu used to support Sundari a lot but he smartly turns them against Sundari.
What will happen next? Will Sundari take revenge on Karthick? When will Karthick get caught?
Upcoming episode will answer to our all questions stay tune with our space for more updates.