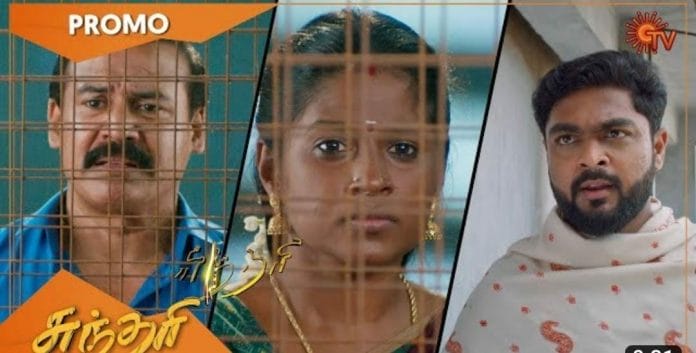 Sundari Upcoming Story, Spoilers, Latest Gossip, Future Story, Latest News and Upcoming Twist, on TellyExpress.com
Sun Tv popular show Sundari keep entertaining it's audience with the gripping story line. Now series focuses on Palani's death to bring new twist in the story. Sundari in a pickle
In the recent episode we see; Lakshmi asking Karthick why should her husband go to jail? She demands Karthick to go to jail for his wife mistake. She demands him to accept the mistake. She don't want to see her husband being punished for someone else mistake.
Sundari tries to convince her. Lakshmi breaks down in tears. Meanwhile, Mallika calls Karthick to know the situation there. Mallika informs him that Anu is adamant to meet him. Kartick says that situation is worst here. Murugan accepted that he killed Palani. But he didn't killed him.
Mallika asks him how he is. Sure about it? She complaints that he is hiding something from her. He tells her that he isn't hiding anything. He will reach there after the situation gets better here.
Later, Lakshmi creates a scene in home seeing Selvi. Karthick agrees to surrender in the police station. Sundari promises to Lakshmi that she will take Murugan out in bail.
In the upcoming episode viewers will see; Arun will share with Ghilli that he shot Palani aiming at him. But Murugan surrender in the police station for him. Kumar will overhear their conversation. Meanwhile, Sundari will plead with Murugan to accept the truth that he didn't shot Palani. Murugan will share something with Sundari.
What will happen next? Will Anu survive? When will Anu find out Karthick's secret?
Upcoming episode will answer to our all questions stay tune with our space for more updates