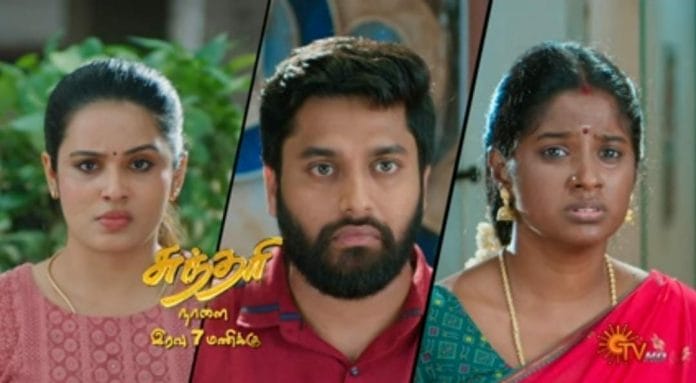 Sundari Upcoming Story, Spoilers, Latest Gossip, Future Story, Latest News and Upcoming Twist, on TellyExpress.com
Sun Tv popular show Sundari keep entertaining it's audience with the gripping story line. Now series focuses on Selvi determined to confront Anu
In the recent episode we see; Anu saying to Karthick that she created a scene in Sundari's house. Karthick asks her," Is everything alright? Anu says to him that she lashed out at Sundari. She is her friend. That is why she controls her anger and scolds her in private.
Karthick hesitate to support her. Anu asks him to stop supporting Sundari. She did wrong to them. Anu adds that she would have to give that necklace her. But she took it without informing her. She isn't able to accept someone lying to her. She won't forgive the person who lied to her.
She would have helped her in every way. She hid the truth from her and lied to her. She asked her not to show her face to her anymore. She gave a befitting reply to her. Now she is feeling better after scolding her. Now she is feeling satisfied after taking a lesson with her for insulting her husband.
Karthick asks her to calm down. She asks him to stop supporting her. Karthick says to her that he cares for her health. She shouldn't get angry like that during pregnancy. He suggested to her drink coffee. She refused to drink it. He asks Sudha to give juice to her. Later, Sundari tries her best to stop Selvi but she is determined to visit Anu's house.
In the upcoming episode viewers will see; Sundari and Mallika will try to stop Selvi. She will be determined to confront Anu. Meanwhile, Anu returns to home along with Karthick.
Anu will question the driver who came to her house?
He will inform her that Sundari came to meet her. Anu will get furious to hear.