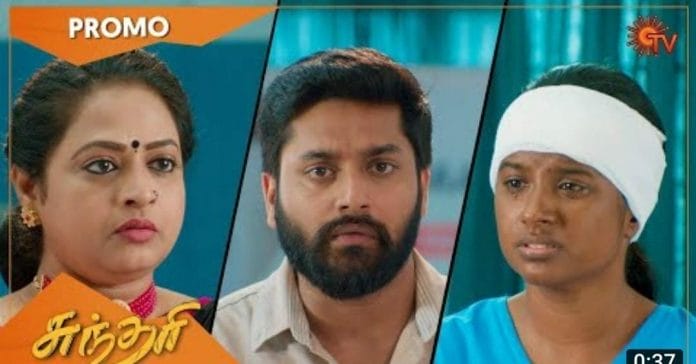 Sundari Upcoming Story, Spoilers, Latest Gossip, Future Story, Latest News and Upcoming Twist, on TellyExpress.com
Sun Tv popular show Sundari keep entertaining it's audience with the gripping story line. Now serial focusing on Sundari will share her grief with Mallika!
In Today's episode we see; Krishna teases Malini while going in bike. Arun gets furious seeing them together. Ghilli adds that he already warned him to go home straight but he didn't listen to him that's why he is seeing such things. Arun says to him that he won't let them live happily.
Ghilli tells him that Malini got married already. He adds that she only got married still he can able to take revenge on Murugan. If she married him then he would have send her to his home. If he kill Krishna then she will return to home as widow.
Ghilli says to him he came out in bail so don't take any wrong decisions. Arun is determined to take revenge on him. Later Sidharth helped Sundari to walk which disliked by Karthick. He argues with him. Krishna solves the issues there.
Later Murugan learns Arun got bail. His mother in law advises him to send Krishna and Malini to Chennai.
In the upcoming episode viewers will see; Lakshmi will share to Karthick that he may be considering Anu as his wife but Sundari is his legal wife. Later Mallika will meet Sundari in hospital. She will alert Sundari that Anu will show hell to Karthick once she learn the truth he betrayed her. Karthick will get shock to hear it.
What will happen next? Will Sundari reveal the truth to all? When will Karthick accept Sundari?
Upcoming episode will answer to our all questions stay tune with our space for more updates.