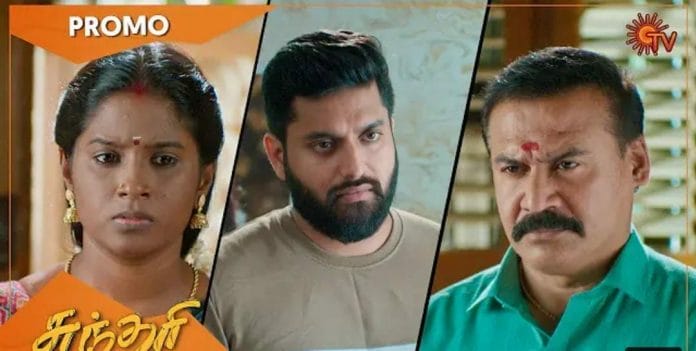 Sundari Upcoming Story, Spoilers, Latest Gossip, Future Story, Latest News and Upcoming Twist, on TellyExpress.com
Sun Tv popular show Sundari keep entertaining it's audience with the gripping story line. Now series focuses on Sundari will be in Trouble
In the recent episode we see; Lakshmi returning to home. Selvi gets emotional seeing her. She shares with her that she isn't able to see her dad in such state. She was praying to God for him but she isn't showing mercy to her. Lakshmi tells her that he was doing better now.
Selvi says that if he is doing better why did he called her to come here? Murugan checks him. He assured to Murugan that he was doing better. Uncle inquires him about Karthick. Murugan says to her that he will reach here asap. Selvi complaints that Karthick doesn't have enough time to visit his father. He was busy with his work and family.
Murugan shares with her that his family members are here right? Selvi says that she doesn't know who is his real family? Selvi complaints that she won't say it from his mouth. Sundari asks her to stop it.
Murugan says to her that she was the one used to support him but she is scolding him now.
Her husband says that she was disappointed with Kartick. Even after he learnt about his health Karthick didn't pay a visit. Later, Sundari decided to attend the Kodaikanal camp
In the upcoming episode viewers will see; Anu will show the new born baby dress to Kartick and inform him Sundari brought it for their baby. Karthick will think that it's hard to separate both of them.
Later, Murugan will inquire Sehar does uncle really sick or pretending to be? Sundari will fear that Sehar may confess the truth to Murugan.
What will happen next?
Will Anu survive?
When will Anu find out Karthick's secret?
Upcoming episode will answer to our all questions stay tune with our space for more updates