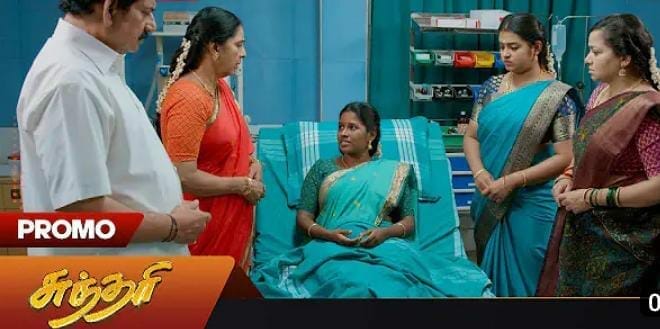 Sundari Upcoming Story, Spoilers, Latest Gossip, Future Story, Latest News and Upcoming Twist, on TellyExpress.com
Sun Tv popular show Sundari keep entertaining it's audience with the gripping story line. Now series focuses on Palani's death to bring new twist in the story. Sundari to fall sick
In the recent episode we see; Anu revealed to the judge that she shot Palani. She told him that Murugan took the blame on him for her sake. She added that he lied to them because she was pregnant. She narrated the whole incident to him.
Sundari came there to stop Anu. She shared to the judge that Anu didn't kill Palani. She showed the evidence to the judge. The judge gave the Judgement favour to Murugan. Sundari faint down. Murugan admitted her in hospital. Her health condition disappointed Murugan.
Anu disliked the way Murugan ordered Karthick. Anu argues with Karthick over this issue. She demanded him to go back with her. Karthick tried to convince her but Anu was adamant in her decision. Krishna scold Karthick for listening to Anu instead of taking care of Sundari. Mallika came there to meet Sundari. Anu argued with her in the hospital.
In the upcoming episode viewers will see; Sundari will requests Selvi to don't say anything to Anu. She will ask her to promise her. Selvi will stand there in silent.
Later, Anu will blame that Sundari is the reason for everything. Selvi will complaint that Anu is a outsider. She will insult Karthick in front of Anu.
What will happen next? Will Sundari reveal the truth to Murugan? When will Anu find out Karthick's secret?
Upcoming episode will answer to our all questions stay tune with our space for more updates