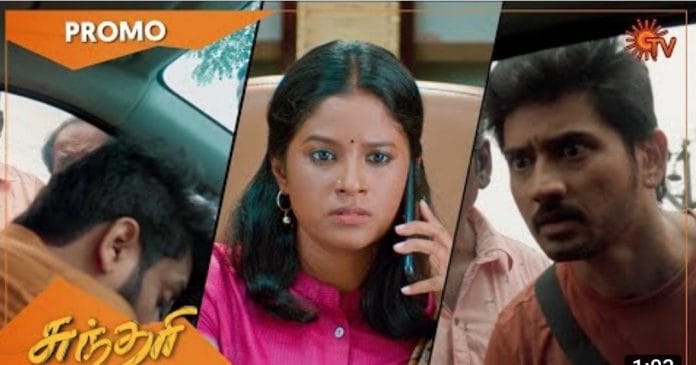 Sundari Upcoming Story, Spoilers, Latest Gossip, Future Story, Latest News and Upcoming Twist, on TellyExpress.com
Sun tv fame Sundari serial never fails to entertain its audience since the first episode is now gearing up for further drama. Now serial concentrating on Sundari to insult Karthick!
In Today's episode we see: Subbu gets a phone call from his wife. She lashes out at him for not returning money to her yet. He informs to her that CEO got changed. She complaints that she already warned him that stop day dreaming he won't get money. Her dad used to say he is good for nothing don't marry him but she didn't listen to him. He disconnects the call seeing Sundari and greets her. She glares him for wishing her without giving respect. She enquired him why is he here in her cabin without her permission? He informs to her that he feels hot outside that's why he is here to sit in AC. She complaints that he is answering irresponsible to her she lashes out at him. She asks him to leave from there. Sundari's assistant comes there. Sundari enquires him why did he let him inside without her permission? All company files are on table if something went missing she is responsible for it. He informs to her that he warned Subbu but he didn't listen to her. Sundari adds that he might take responsibility for it he should not let anyone inside her cabin. Later Lakshmi calls Sundari and enquires her Is Karthick attend the village function? Sundari adds that she said to him but he will definitely attend the function if she invite him. She supports Karthick and disconnects the call. Lakshmi thinks that she knew the truth though he supporting him. Later Sundari insults Karthick for entering into her cabin without permission. Mallika gives rights to Sundari to find out whom taken office money?
In the upcoming episode viewers will see; Murugan will pray to god. He will plead god to give permission to perform the Thirivizha and bless Sundari to become mom. Later Karthick will drive the car in anger on Sundari and meet with an accident. Sidharth will notice him and inform to Sundari that Anu's husband Karthick met with an accident. She will get shock to hear it.
What will happen next? Will Sundari save Karthick? Will Sundari reveal the truth to her uncle?
Upcoming episode will answer to our all questions stay tune with our space for more updates..