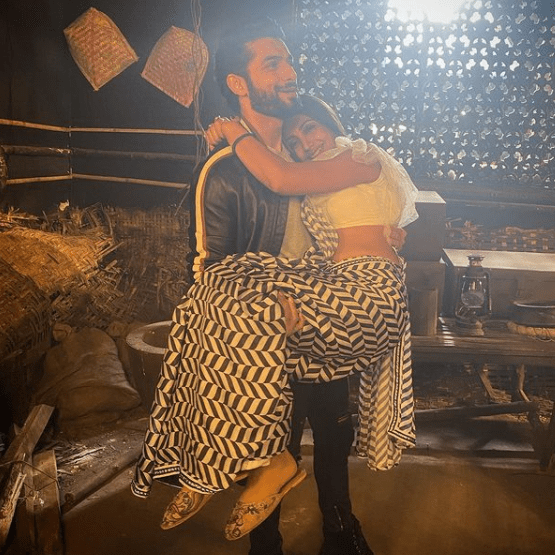 Naagin 5 gave audience a forever couple in the form of Bani and Veer. The breath-taking chemistry of Surbhi Chandna and Sharad Malhotra made VAni utterly special for the fans. Ever since Naagin 5 was launched fans trended Surbhi and Sharad's character VaNi online. Sharad and Surbhi share a great rapport off-screen. And the ease was reflected in the scenes of VAni that made it look more passionate. Veer and Bani's love story made fans trend hastag #VAniShallLiveOnForever last night.
Millions heart were broken yesterday as Naagin 5 saw its Grand Finale. In the last episode, battle between Veer, Bani and Jay was shown. Jay was close to empower Naagin. But Veer managed to save Bani in the nick of the time. Bani and Veer fight back Jay. Jay loses his life. VAni reunites. Bani tells Veer about her pregnancy. Further, VAni's child was shown. Voice over reveals that the story of the child will begin soon. To carry forward Naagin 5 story colors will next witness 'Kuch Toh Hai'. And it will be interesting to watch if the show will manage to impress the audience or not!
Coming back to the show, Naagin 5 audience have always appreciated the bond of Surbhi and Sharad. Fans last night took their social media handle and yet again praise the faultless acting of Chandna and Malhotra. They also quoted how much they will miss VaNi, as the character made an irreplaceable place in their heart.
Well, not only fans but Naagin 5 actors too wrapped the show in style! Actor Sharad Malhotra who played the character of Veeranshu in the show took his social media and writes for VaNI; "kya pata Vani hug phi rho na ho". He also urged the fans to watch the finale episode. The caption itself is reflecting that Sharad too will miss Vani badly. This is the first time Malhotra played a supernatural character. And his skillful acting surely amazed the fans yet again.
https://www.instagram.com/p/CK8fp1aB_Pd/
Actress Surbhi Chandna took her instagram and caption her post with a beautiful lines giving a closure to a beautiful story of cheel and naagin. Chandna writes; "Humesha Yeh Naagin Iss Cheel Ki Hi Rahegi
I am Told tonights Naagin 5 Finale is a total cryfest
Tissues Please"
https://www.instagram.com/p/CK8qBSqnhS8/
Last but not the least, show another important character Jay aka Mohit Sehgal too thanked the fans for accepting and supporting him throughout. He writes; "Game over for #jaimathur 🐍
#signingoff 🙋‍♂️
Phir milenge 👋
Thank you soooo much guys for all the love and support 🙏😘♥️🤗 Hope u all enjoyed watching #naagin5 and hope I did justice to #jaimathur 🙏
@colorstv
https://www.instagram.com/p/CKyOVwjgB8N/
Tell us if you are still missing your favorite character VaNI.
Stay tuned with us for more news, spoilers and latest updates.