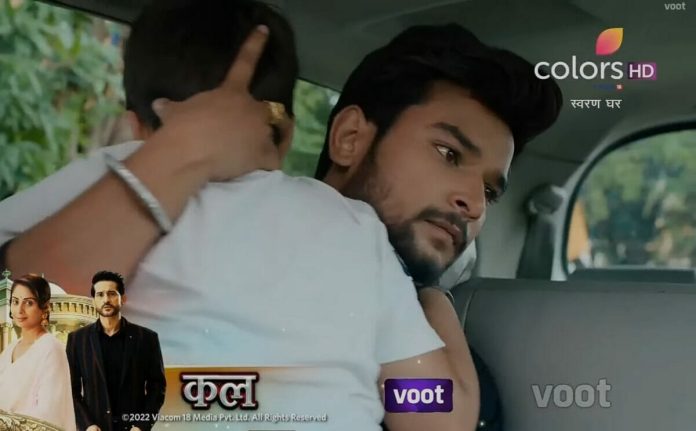 Swaran Ghar Upcoming Story, Latest Gossip , Future Story, Latest News and Upcoming Twist on tellyexpress.com

Swaran Ghar depicts the emotional turmoils and rollercoaster journey of an aged widow mother Swaran on ColorsTV and voot app and currently we are seeing that Swaran gets a job. Kidnappers target Aarav. Arjun, Ajit and Swaran are together in the Gurudwar.
In the previous episode, Swaran woke up in the morning and checked Bebe. She realised that Bebe's fever was gone. She thanked God and prayed for a job. She got a call and received a receptionist job. Ajit came there.
Swaran told him about last night's incidents. She told him about her job offer. Ajit and Swaran said sorry to each other. Swaran said that she would go to Gurudwar for Gurupurab. Arjun geared up to reach Gurudwar.
He checked Swaran's Portrait and hoped to meet her soon. Rajeshwari came there and found the other portrait in drawer. She blamed the lady of the portrait for giving pain to Arjun.
Arjun recieved a news on phone, he called Mallika and asked her to broadcast a news that a gang of four kidnappers were kidnapping little children. The same kidnapper gang waited outside Swaran Ghar and targetted Aarav.
Aarav geared up to go to Gurudwar with Vikram. He hoped to meet his D there. Ajit met Arjun in the Gurudwar but they don't recognize each other and had nice conversation.
Swaran, Ajit and Arjun prayed at the Gurudwar together. Ajit prayed so that he could support Swaran always. Swaran prayed God to be with her always. Arjun prayed to meet Swaran soon.
In the upcoming episode, Aarav spots a chocolate in crowd and goes to pick it up. He eats the chocolates and faints. A man picks him up. Swaran sees the incident. A man put him inside a car.
Swaran goes behind but a woman pushes her. Swaran falls on the ground. The woman sits in the car with other kidnappers.
What will happen to Aarav? Will Swaran be able to save him? Will Arjun see Swaran? Will Arjun and Ajit meet again?
To know stay tuned to Swaran Ghar on ColorsTV/Voot app and this space.