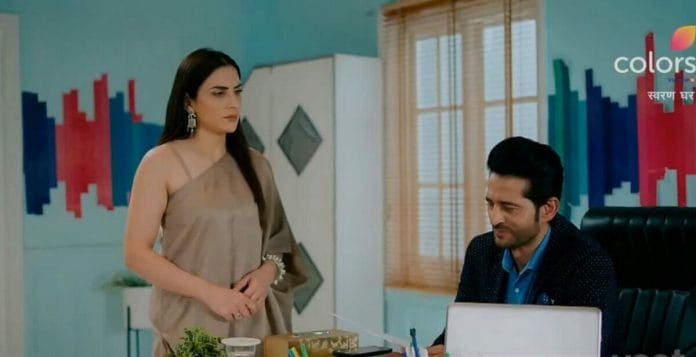 Swaran Ghar Upcoming Story, Latest Gossip , Future Story, Latest News and Upcoming Twist on tellyexpress.com
Swaran Ghar depicts the emotional turmoil and rollercoaster journey of an aged widow mother Swaran on ColorsTV and voot app. Currently we are seeing that Arjun selects ring for Swaran.
Bebe takes Ajit to a jewelry shop and buys ring for Swaran aswell. Divya gets embarrassed infront of her in laws because of Ajit. She and Jai get upset with Ajit.
In the previous episode, Bebe asked Ajit to drop her at Gurudwar. Swaran brought Nakul home. Aarav praised her and Ajit. Swaran geared up to make the remedial cream and find Vikram. Rajeshwari asked Arjun to select ring for Swaran. Arjun selected a simple ring for Swaran with AS written on it.
Bebe took Ajit to a jewelry shop to buy ring for Swaran. Ajit tried to escape but Bebe convinced him to marry Swaran. She asked Ajit to talk to his children and said that she would try to convince Nakul. They also selected a similar ring for Swaran.
Divya's in-laws came to meet Ajit. Jai told them that Ajit was sick and taking rest inside. They tried to leave but came face to face with Ajit. They criticized Jai for lying. Divya lost her calm and lashed out at Ajit.
She asked if he was with Swaran. Ajit said that he went to safeguard Swaran. Divya complained that Ajit does not value them anymore and give all importance to Swaran. She left angrily.
Jai, Ankita got upset with Ajit too. Bebe returned home. Swaran enquired about Ajit. Bebe said that Ajit had left.
In the upcoming episode, Arjun asks Rajeshwari if she is truly happy for his marriage. Rajeshwari says no. Bebe tells Ajit that neither his nor Swaran's children will approve the marriage easily. She suggests him to talk to Swaran first.
Will Arjun drop his plan? Will Swaran change her stand? Will Swaran and Ajit get married? Will their children approve their marriage?
To know stay tuned to Swaran Ghar on ColorsTV/Voot app and this space.