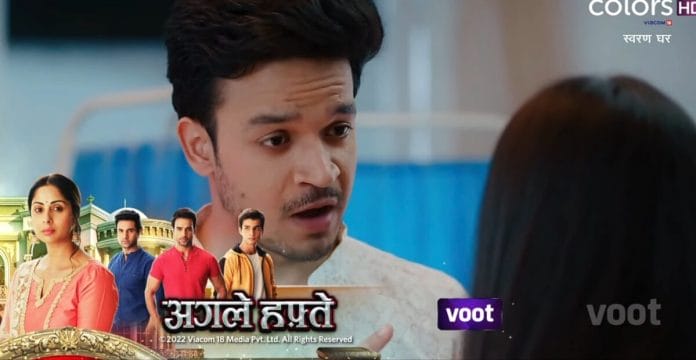 Swaran Ghar Upcoming Story, Latest Gossip , Future Story, Latest News and Upcoming Twist on tellyexpress.com
Swaran Ghar depicts the emotional turmoils and rollercoaster journey of an aged widow mother Swaran on ColorsTV and voot app and currently we are seeing that Ajit comes out of comma hearing Swaran's voice. Nakul lashed out at Vikram. Swaran has heart to heart conversation with Yug.
In the previous episode, Ambar disguised herself as nurse, entered into Ajit's cabin. She made Ajit hear Swaran's voice note. Ajit started responding and came out of coma. Ambar took his picture. Swaran learned about Ajit's recovery and went to Gurudwar to thank God. She met Yug there and had a heart to heart conversation with him. Swaran assured Yug that Ajit can't take Kanwaljeet's place ever. Yug promised to stay beside Swaran always. Ashu met Ambar and forwarded Swaran's voice note to Kiran secretly. Ajit's condition detoriated. Doctors started shifting him. Swaran walked in a procession and fainted. She was placed beside Ajit. Swaran's dupatta touched him and his heart beat got stabled.
In the upcoming episode, Divya and Jai fight over letting or not letting Swaran be beside Ajit. Despite Divya's denials and claims that she is a bad person, Jai asserts that her presence has improved papaji. Swaran opens her eyes and sees Ajit beside her.
How will Swaran react seeing Ajit beside her? Will Divya insult Swaran again? Will Ajit get cured? What will Vikram do?
To know stay tuned to Swaran Ghar on ColorsTV/Voot app and this space.