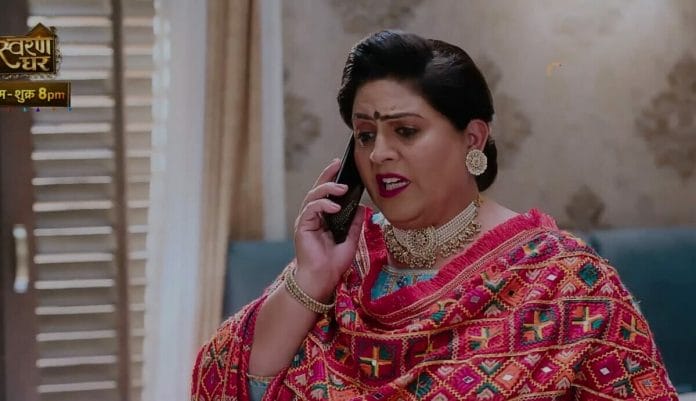 Swaran Ghar Upcoming Story, Latest Gossip , Future Story, Latest News and Upcoming Twist on tellyexpress.com
Swaran Ghar depicts the emotional turmoil and rollercoaster journey of an aged widow mother Swaran on ColorsTV and voot app. Currently we are seeing that Police look for Chandni. Chandni plans to teach lesson to Saroj and Balli. Swaran meets Ajit. Ajit falls from the bed which scares Swaran.
In the previous episode, For everything Chandni has done for her thus far, Swaran referred to her as her sister from a different mother. Swaran was questioned by Chandni about Ajit's health. She was informed by Swaran that Ajit had just replied. As she was there to deal with Saroj and Balli, Chandni urged her to go to Ajit.
They exchanged hugs before departing. Officers searched for Chandni. Swaran considered making Ajit to speak to her, making him wear a sacred kada, and feed him Prasad. To search Chandni, police came at Jai's residence. They could not to find her and left.
There, Swaran arrived. She was observed by a policeman, but he did not pursue her. In order to prepare her favourite foods for Saroj, Chandni called Swaran. Vegetable vendor recognised Chandni and reported her to police.

Balli regained consciousness at the hospital and started looking for Swaran. To enquire about Swaran, he called Saroj. Chandni came back from the market. Saroj forced her to speak with Balli. Balli mentioned their honeymoon Location. Chandni made the decision to teach Balli a good lesson.
Saroj was forced to eat the food that Chandni prepared. Although Saroj enjoyed the cuisine, she had abdominal discomfort. She continued to use the restroom. Chandni enjoyed the scene. Swaran made Ajit put on the sacred kada. Ajit responded. Later, he slipped off the bed. Swaran was startled.
In the upcoming episode, Saroj complains to Balli about Swaran over phone. Balli sees Swaran in his cabin and gets shocked. He wonders who is at home. He questions Swaran for torturing Saroj.
He tells Saroj that he is scolding Swaran. Saroj sees Chandni and asks Balli how can he scold Swaran when she is at home. They both get confused.
To know what happens next stay tuned to Swaran Ghar on ColorsTV/Voot app and this space.