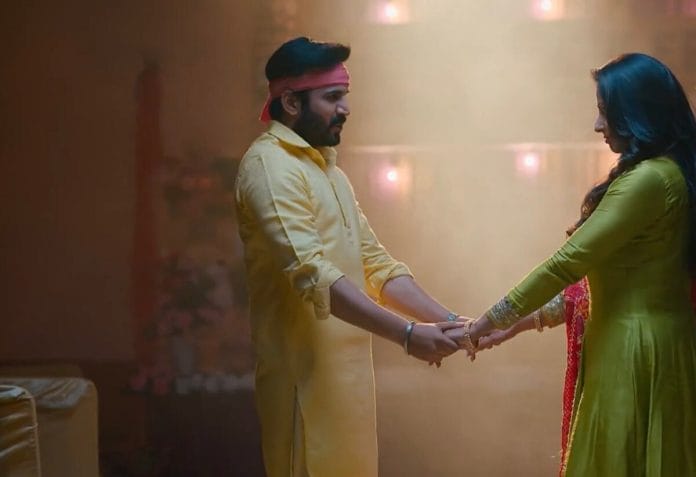 Swaran Ghar Upcoming Story, Latest Gossip , Future Story, Latest News and Upcoming Twist on tellyexpress.com
Swaran Ghar depicts the emotional turmoils and rollercoaster journey of an aged widow mother Swaran on Colors TV and voot app and currently we are seeing that team Ginni and Swaran wins the competition. Nimmo spikes Ajit's drink.
In the previous episode, Ginni's teacher told Swaran that she liked the chemistry of Swaran and her husband. Everyone looked confused. Ginni interrupted her teacher and took her away. Divya asked Dillu about Ajit. Dillu said that Ajit left home. Jai said that Ajit went to Swaran's house. Divya said that she would meet Swaran and ask her why she was keeping Ajit away from them. Swaran requested Ajit to leave for his home. Ajit said that he would return in the evening. Nimmo poured water on the floor. Swaran slipped but Ajit stopped her from falling. Swaran's dupatta got stuck in the fan, Swaran got strangulated. Ajit cuts the dupatta using his teeth. Nimmo kept blabbering the truth about Swaran, Ajit, and Ginni's relationship. None paid attention to her. Swaran lost conciousness. Swaran's daughters panicked. Ajit sprinkled water on Swaran's face. Swaran gained conciousness. Ajit gave Divya's dupatta to Swaran. Swaran refused to take it. Ajit said that she would bring another for Divya. Swaran took it. Vikram spotted Jai and Divya outside Swaran Ghar. Nimmo spiked Swaran and Ajit's drinks but only Ajit consumed it. Vikram abused Ajit Infront of Jai and Divya. Divya warned Vikram not to say a single word against her father. Vikram informed them that Ajit is at New Era public school, standing beside Swaran Bedi, people are calling him Mr. Bedi. He asked them to go and check. Vikram got lawyer's call and asked him to meet outside. Team Ginni and Swaran were announced winner. Swaran thanked Ginni, Mr Bedi, her daughters and Ajit. Before she could spell Ajit's full name Ginni interrupted her and went to bring Ajit on stage.
In the upcoming episode, Swaran and Ajit will dance together romantically on an old song.
What will Ajit do? Will Swaran get to know Ginni's lie? What will be Vikram's next move? Will Divya confront Swaran and Ajit?
To know stay tuned to Swaran Ghar on ColorsTV/Voot app and this space.